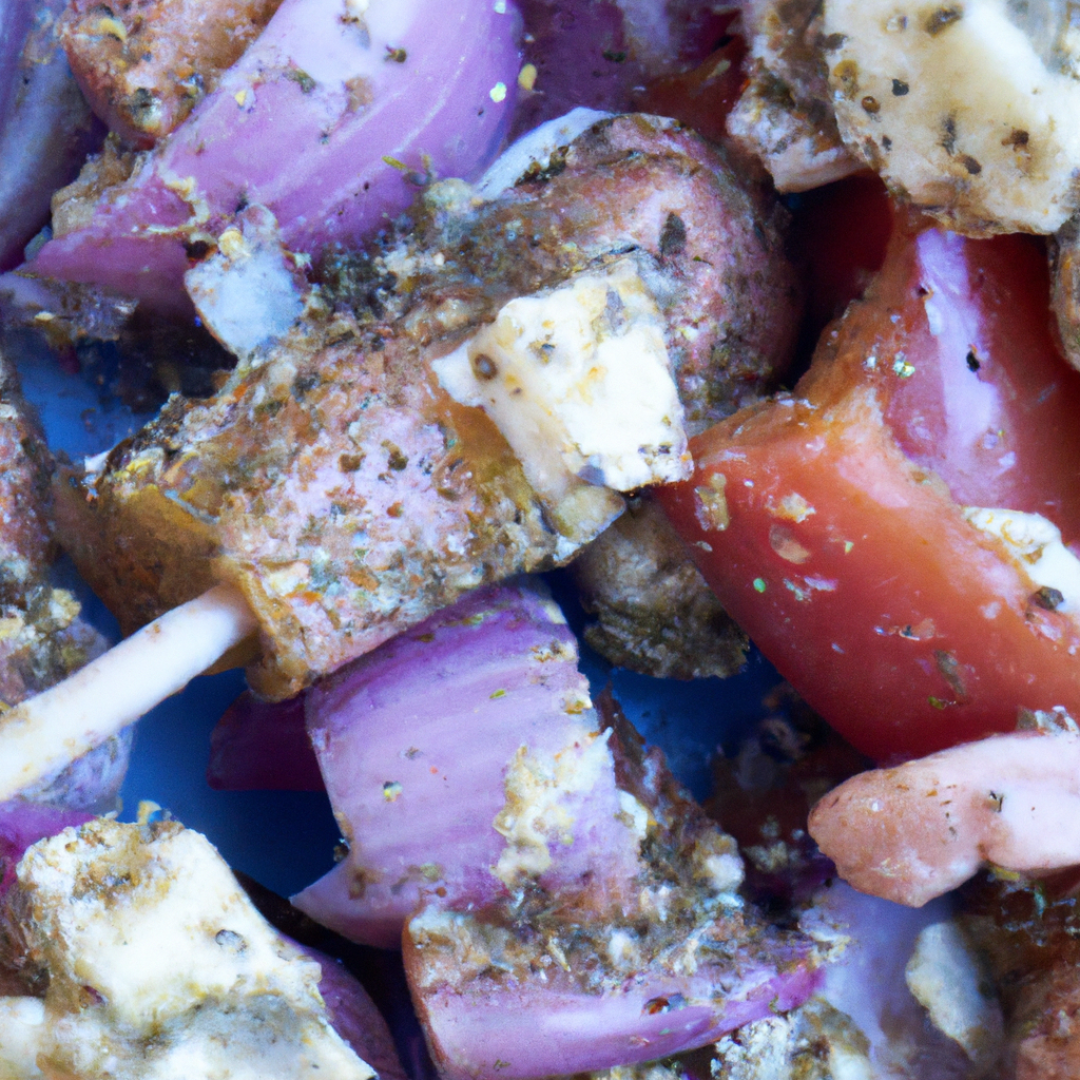 What are some of the plant-based ingredients used in this Greek vegan souvlaki recipe?
Delightful Greek Vegan Souvlaki Recipe: a Plant-Based Twist on a Traditional Greek Dish
Souvlaki is a popular Greek dish often associated with meat, but you don't have to be a meat-eater to enjoy this delicious meal! This vegan souvlaki recipe is a plant-based twist on the traditional dish that is sure to impress your taste buds.
Ingredients:
1 block of firm tofu, cut into cubes
1 red onion, cut into large chunks
1 red bell pepper, cut into large chunks
1 zucchini, cut into large chunks
1/4 cup olive oil
1/4 cup lemon juice
1 tbsp dried oregano
1 tsp dried thyme
1 tsp paprika
Salt and pepper to taste
Instructions:
Preheat the grill to medium-high heat.
Combine the olive oil, lemon juice, oregano, thyme, paprika, salt, and pepper in a bowl and mix well.
Add the cubed tofu to the marinade and allow it to rest for at least 10 minutes to soak up the flavors.
Thread the tofu, red onion, bell pepper, and zucchini onto skewers alternating between each vegetable.
Place the skewers onto the grill and cook for 4-5 minutes on each side, or until the tofu is golden and the vegetables are slightly charred.
Serve hot with a side of tzatziki or hummus and enjoy!
How to Make Tzatziki:
If you're in the mood for a delicious dip to go along with your souvlaki, you can easily whip up a batch of tzatziki. Here's how:
Ingredients:
1 cup plain Greek yogurt
1/2 cucumber, seeded and grated
2 cloves of garlic, minced
2 tbsp olive oil
1 tbsp lemon juice
2 tbsp fresh dill, chopped
Instructions:
Combine the Greek yogurt, grated cucumber, minced garlic, olive oil, and lemon juice in a bowl and mix well.
Stir in the fresh dill and mix until well incorporated.
Cover and chill in the fridge for at least 30 minutes before serving.
Conclusion:
This vegan souvlaki recipe is a crowd-pleaser that is sure to satisfy anyone's craving for a tasty Greek dish. The combination of seasoned tofu and grilled vegetables is both healthy and delicious. Serve it up with a side of homemade tzatziki sauce, and you've got a meal that will transport your taste buds straight to Greece.