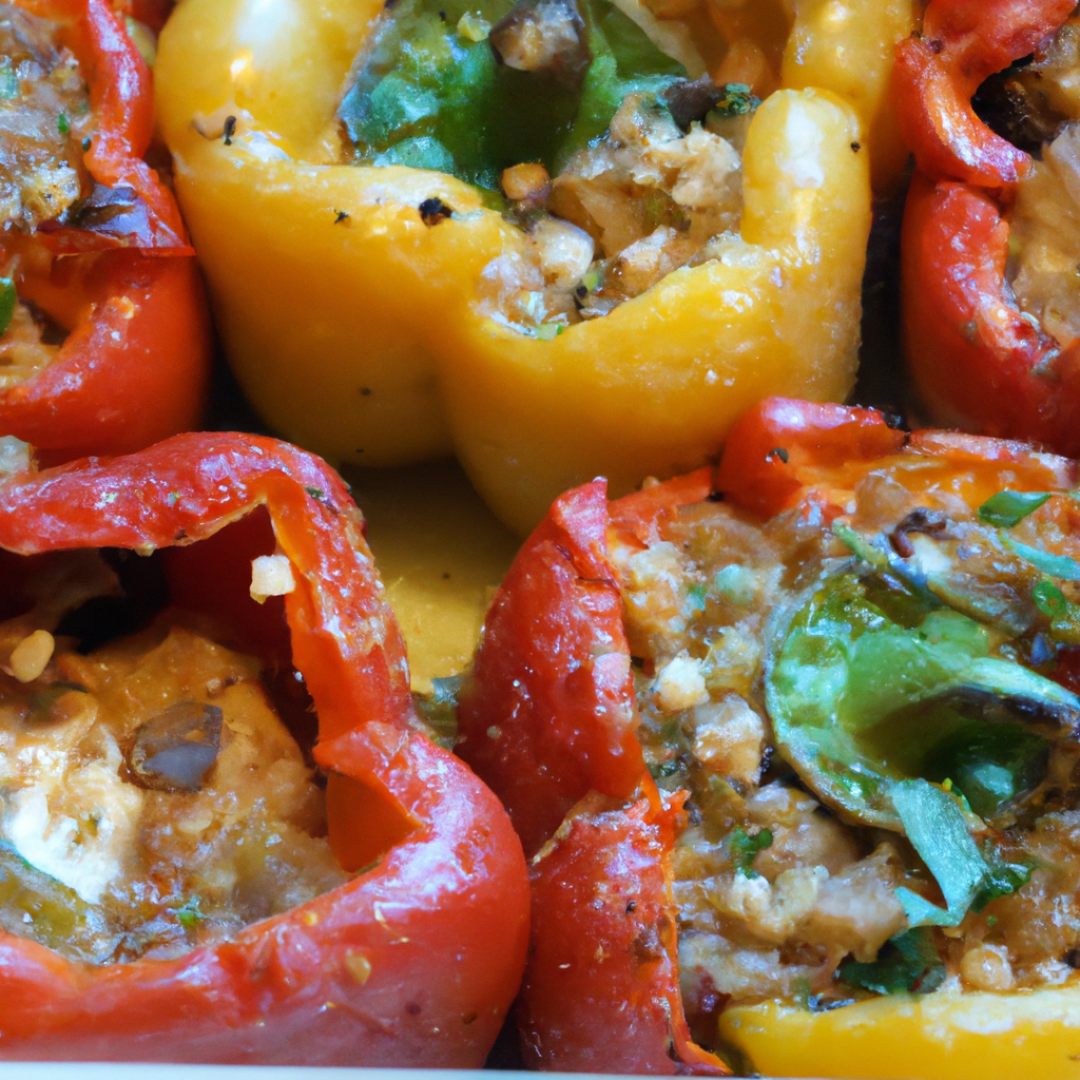 What are the ingredients needed to make Greek-inspired vegan stuffed peppers?
Greek-Inspired Vegan Delight: Mouthwatering Recipe for Stuffed Peppers
If you're searching for a hearty and flavorful vegan meal, look no further than stuffed peppers! These Greek-inspired beauties are packed with protein and veggies, and they're sure to satisfy the whole family. Bursting with Mediterranean flavors like kalamata olives, garlic, and oregano, these peppers are a vegan delight that will leave your taste buds dancing with joy. So go ahead and give them a try – your taste buds will thank you!
Ingredients:
8 large bell peppers, preferably red
1 cup cooked quinoa
1 can (15 oz) chickpeas, rinsed and drained
1/2 cup kalamata olives, chopped
1/2 cup sun-dried tomatoes, chopped
1/4 cup fresh parsley, chopped
4 cloves garlic, minced
2 teaspoons dried oregano
1 teaspoon smoked paprika
1/2 teaspoon salt
1/4 teaspoon black pepper
Instructions:
Preheat oven to 375 degrees F. Cut the tops off the bell peppers and remove the seeds and membranes.
In a bowl, combine the cooked quinoa, chickpeas, olives, sun-dried tomatoes, parsley, garlic, oregano, smoked paprika, salt, and black pepper.
Stuff each pepper with the quinoa mixture and place them in a baking dish. Cover the dish with foil and bake for 30 minutes.
Remove the foil and bake for an additional 15-20 minutes, or until the peppers are tender and the filling is golden brown.
Allow the peppers to cool for a few minutes before serving. Garnish with extra parsley and olives, if desired.
Enjoy your delicious and healthy stuffed peppers!
Variations:
For a twist on this Greek-inspired recipe, try adding crumbled vegan feta cheese and fresh lemon juice to the quinoa mixture. You can also experiment with different types of peppers, such as poblano or Anaheim, for a spicy kick!
Conclusion:
This vegan recipe for stuffed peppers is a perfect balance of delicious and healthy, and it's sure to impress your guests. With its Mediterranean flavors and hearty filling, this dish is a vegan delight that will satisfy your cravings and leave you feeling satisfied. Give it a try and let us know what you think!