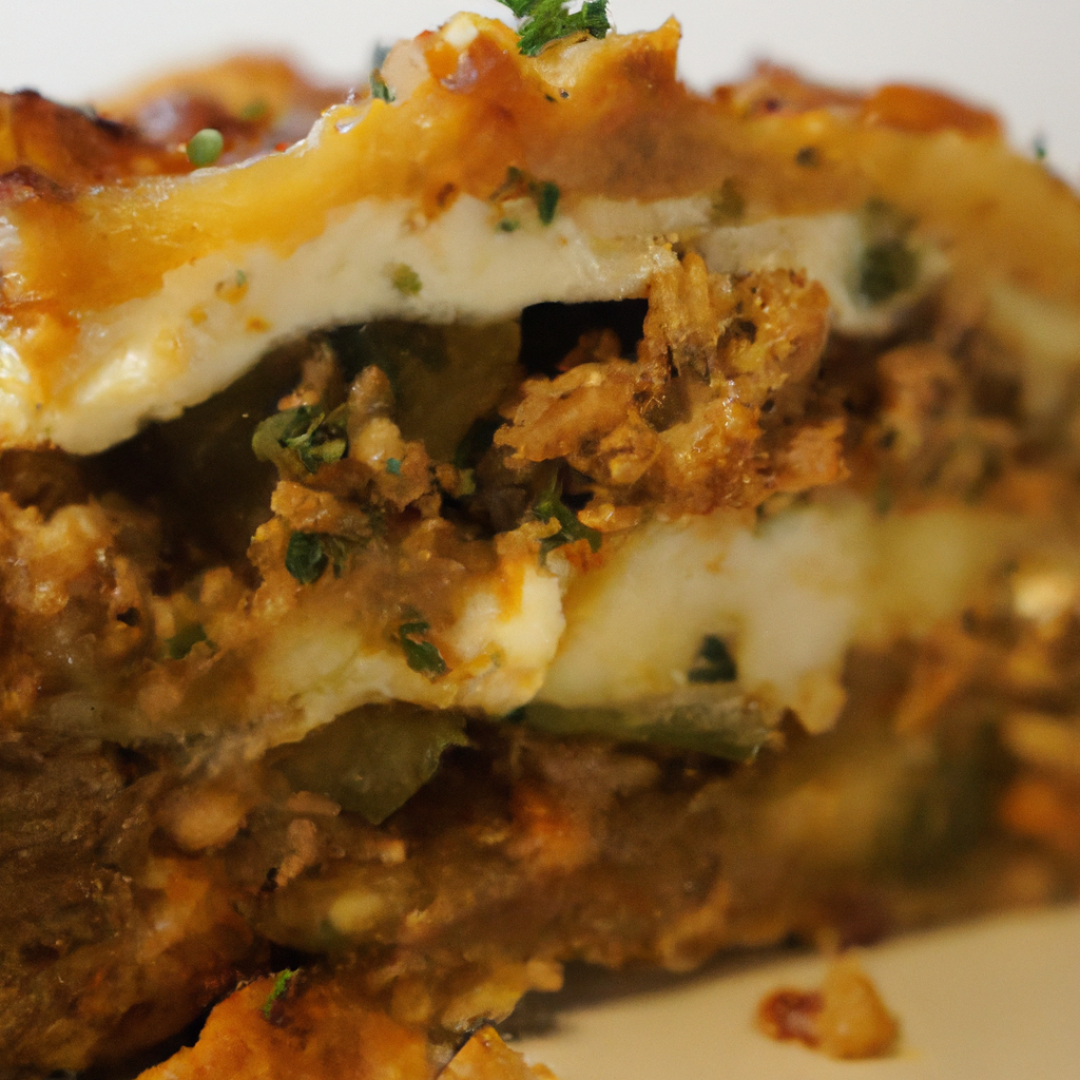 What are the main ingredients in this plant-based moussaka recipe?
The Ultimate Greek Vegan Moussaka
A Mouthwatering Plant-Based Twist on a Classic Dish
Ingredients:
1 large eggplant, sliced
1/2 cup olive oil
1 onion, chopped
3 cloves garlic, minced
1 tsp dried oregano
1 tsp dried basil
1/2 tsp ground cinnamon
1 can crushed tomatoes (28 oz)
1/2 cup red wine
1 cup vegetable broth
1 tbsp tomato paste
1 cup cooked lentils
1/4 cup nutritional yeast flakes
1/4 cup all-purpose flour
2 cups unsweetened almond milk
Salt and pepper to taste
Vegan Parmesan cheese for topping
Instructions:
Preheat the oven to 375°F (190°C). Place the sliced eggplant on a baking sheet and brush with olive oil. Bake for 20 minutes, until soft.
In a large pan, heat the remaining olive oil over medium heat. Add the chopped onion and sauté until translucent, about 5 minutes. Add the minced garlic, oregano, basil, and cinnamon. Cook for 1-2 minutes, stirring constantly.
Add the can of crushed tomatoes, red wine, vegetable broth, tomato paste, and cooked lentils. Mix well and bring to a boil. Lower the heat and let simmer for 20 minutes, stirring occasionally.
In a separate pan, whisk together the nutritional yeast flakes, all-purpose flour, and almond milk. Cook over medium heat, stirring constantly, until the sauce thickens, about 5 minutes. Add salt and pepper to taste.
Assemble the moussaka in a large baking dish by layering half of the eggplant slices, half of the lentil tomato mixture, and half of the white sauce. Repeat with the remaining eggplant, lentil tomato mixture, and white sauce.
Top with vegan Parmesan cheese and bake in the preheated oven for 30 minutes, until golden brown and bubbly.
Serve hot and enjoy your Ultimate Greek Vegan Moussaka!
Thank you for trying out our recipe! Feel free to share it with your friends and family. Don't forget to check out our other vegan recipes on our website.
Bon appétit!