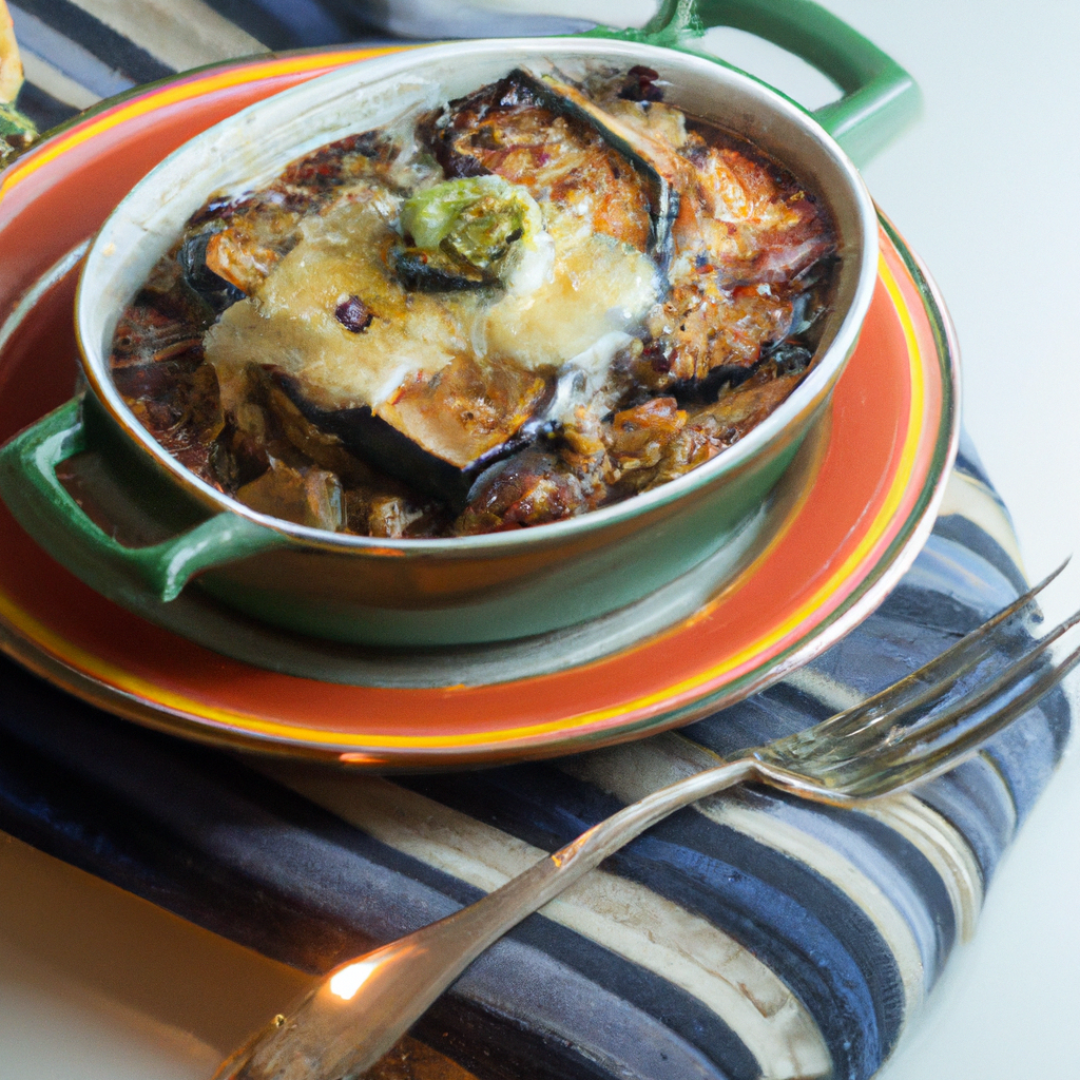 How does the vegan spin change the traditional flavors of Moussaka?
Deliciously Greek: A Vegan Spin on a Classic Moussaka Recipe
Greek cuisine is known for its rich flavors and hearty dishes, and moussaka is no exception. Typically made with layers of sliced eggplant, seasoned ground beef, and a creamy béchamel sauce, this classic dish is a staple in Greek households and restaurants around the world.
But what if you're vegan, or just looking for a healthier version of this indulgent dish? Fear not, because we've got you covered! This vegan spin on moussaka is just as delicious as the classic version, but without any meat or dairy products. Instead, we're using lentils, roasted eggplant, and a cashew-based "cheese" sauce to create a savory and satisfying meal that's perfect for weeknight dinners or weekend gatherings.
Ready to dig in?
Ingredients:
2 large eggplants, sliced lengthwise into 1/4-inch thick pieces
1/2 cup olive oil
1 onion, finely chopped
3 garlic cloves, minced
1 cup green lentils, cooked according to package instructions
1 can crushed tomatoes (14.5 oz)
1/4 cup tomato paste
1 tsp dried oregano
1 tsp dried basil
1/2 tsp ground cinnamon
1/4 tsp nutmeg
1/4 tsp cayenne pepper
Salt and pepper, to taste
1 cup raw cashews, soaked overnight
1/2 cup water
1/4 cup nutritional yeast
2 tbsp lemon juice
1 tsp apple cider vinegar
1/4 tsp garlic powder
1/4 tsp onion powder
Instructions:
Preheat oven to 400°F. Arrange eggplant slices on a baking sheet and brush them generously with olive oil on both sides. Roast for 20-25 minutes, turning them over once halfway through, until they are golden brown and tender.
In a large skillet, heat the remaining olive oil over medium heat. Add the onion and garlic and sauté until softened, about 5 minutes.
Add the cooked lentils to the skillet, along with the crushed tomatoes, tomato paste, oregano, basil, cinnamon, nutmeg, cayenne pepper, salt, and pepper. Stir well and let it simmer for 10-15 minutes, until the sauce is thick and fragrant.
In a blender or food processor, combine the soaked cashews, water, nutritional yeast, lemon juice, apple cider vinegar, garlic powder, and onion powder. Blend until smooth and creamy.
To assemble the moussaka, spoon a layer of the lentil mixture into the bottom of a large baking dish. Add a layer of roasted eggplant on top, followed by another layer of lentil mixture. Continue layering until you run out of ingredients, ending with a layer of lentil mixture on top.
Spoon the cashew "cheese" sauce over the top of the moussaka, spreading it evenly to cover all the lentils and eggplant.
Reduce oven temperature to 375°F. Bake the moussaka for 30-35 minutes, until golden brown and bubbly. Let it cool for 10 minutes before serving.
We hope you enjoy this vegan spin on moussaka! It's a delicious and healthy alternative to the classic recipe, and it's sure to satisfy your cravings for rich and hearty Greek flavors.