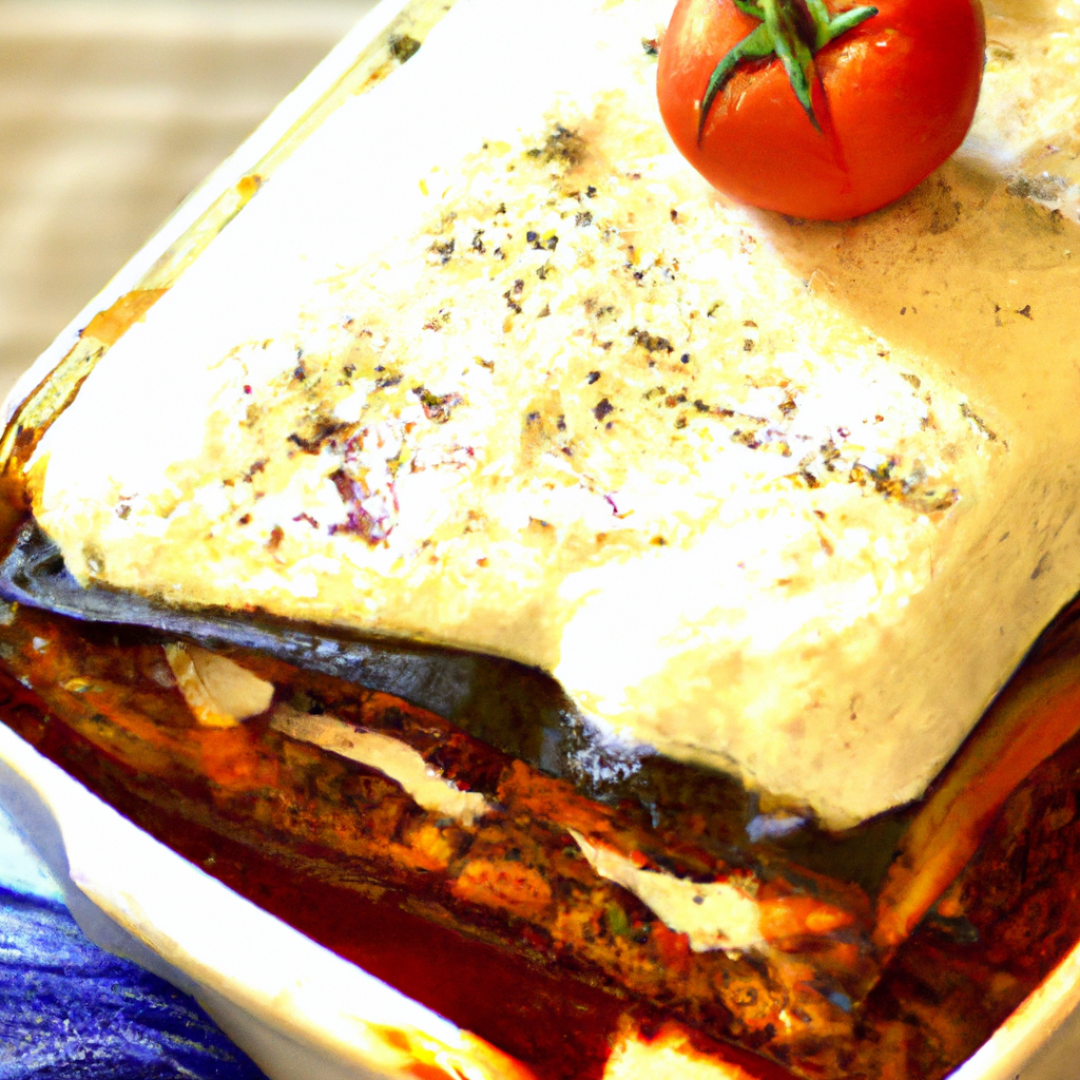 What are some of the traditional Greek flavors and ingredients used in this vegan moussaka recipe?
Indulge in Authentic Greek Flavors with this Delicious Vegan Moussaka Recipe
Ingredients
1 eggplant
1/4 cup olive oil
1 onion, chopped
3 garlic cloves, minced
1 zucchini, chopped
1 red bell pepper, chopped
1 cup cooked lentils
1 cup tomato sauce
2 tablespoons chopped fresh parsley
1 tablespoon chopped fresh oregano
1 tablespoon lemon juice
Salt and pepper, to taste
1 cup unsweetened almond milk
2 tablespoons cornstarch
1/2 teaspoon nutmeg
1/2 cup nutritional yeast
1/2 cup breadcrumbs
1/2 cup vegan mozzarella cheese, shredded
Directions
Step 1: Roast the Eggplant
Preheat the oven to 400°F. Slice the eggplant into 1/4-inch rounds. Brush both sides with olive oil and sprinkle with salt and pepper. Place on a baking sheet and bake for 20-25 minutes, until tender and lightly browned.
Step 2: Make the Filling
In a large skillet, heat 2 tablespoons of olive oil over medium heat. Add the onion and sauté for 5-7 minutes, until softened. Add the garlic, zucchini, and red bell pepper and cook for another 5-7 minutes, until the vegetables are tender. Add the cooked lentils, tomato sauce, parsley, oregano, lemon juice, salt, and pepper and stir to combine. Let cook for a few minutes, until the flavors have melded together.
Step 3: Make the Béchamel Sauce
In a small saucepan, whisk together the almond milk and cornstarch. Cook over medium heat, whisking constantly, until the mixture thickens and bubbles. Stir in the nutmeg and nutritional yeast.
Step 4: Assemble the Moussaka
Preheat the oven to 375°F. Grease a 9×13-inch baking dish with olive oil.
Sprinkle the breadcrumbs evenly over the bottom of the dish.
Layer the roasted eggplant rounds on top of the breadcrumbs.
Spoon the filling over the eggplant, spreading it evenly.
Pour the béchamel sauce over the filling, making sure to cover it completely.
Sprinkle the shredded vegan mozzarella cheese on top.
Bake for 35-40 minutes, until the top is golden brown and the filling is bubbly.
We hope you enjoy this delicious vegan moussaka recipe! Don't forget to share it with your friends and family. And if you have any suggestions or feedback, feel free to leave a comment below.