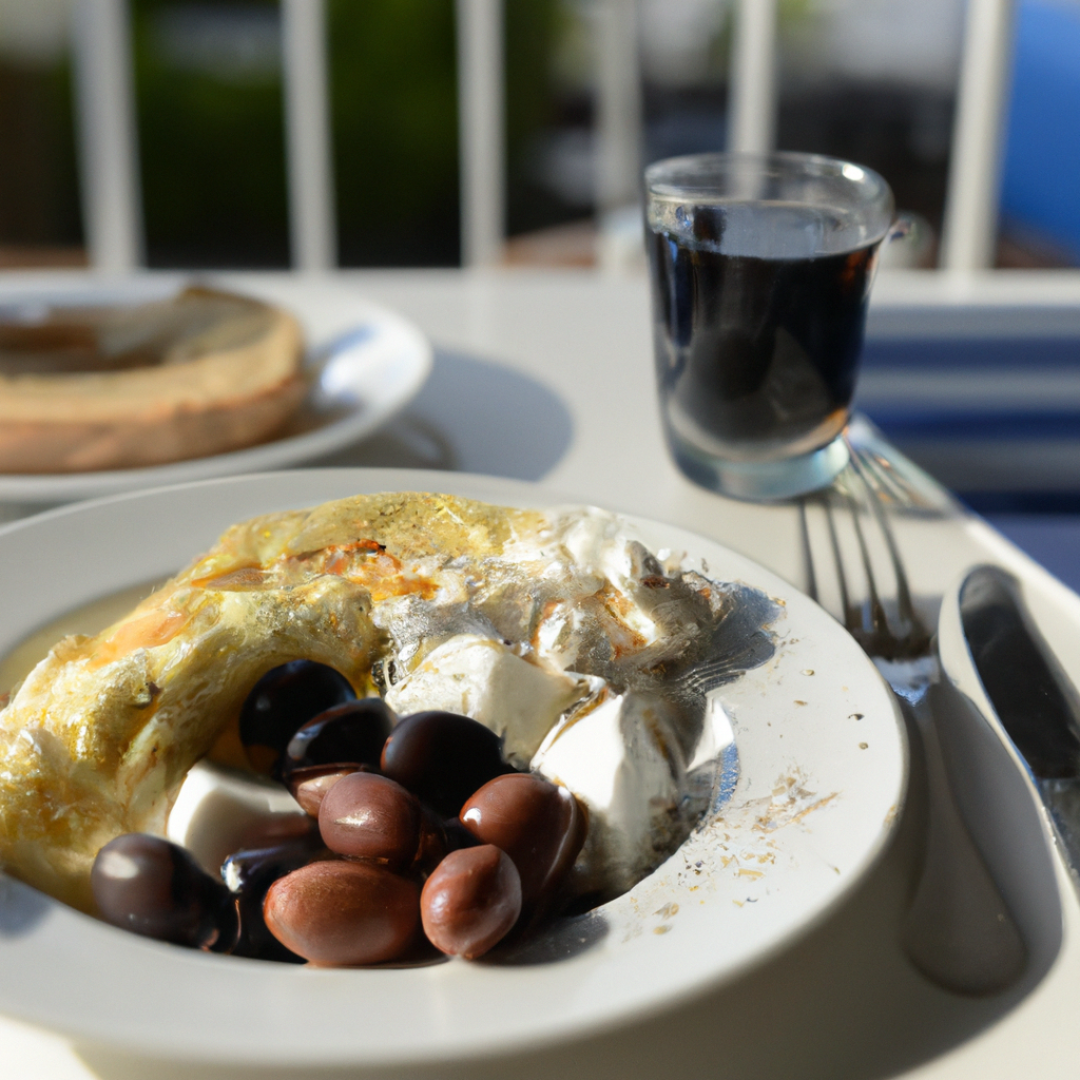 What are some traditional Greek breakfast foods and how does this recipe incorporate them into an omelette?
Authentic Greek Breakfast: Start Your Day with Feta Omelette and Kalamata Olives
Greek cuisine is famous for its fresh ingredients and simple yet delicious dishes. If you're looking for a healthy and tasty breakfast option, try this authentic Greek recipe for an omelette with feta cheese and Kalamata olives. It's filling, packed with protein and healthy fats, and will keep you energized throughout the day.
Ingredients:
3

eggs

30g

crumbled feta cheese

5-6

Kalamata olives, pitted and chopped

1/2

small onion, finely chopped

1/2

small tomato, finely chopped

1

tablespoon olive oil

1/4

teaspoon dried oregano

1/4

teaspoon salt

1/8

teaspoon black pepper
Instructions:
In a bowl, whisk the eggs with salt and pepper.
In a non-stick pan, heat the olive oil over medium heat.
Add the chopped onion and cook for 2-3 minutes until soft and translucent.
Add the chopped tomato and cook for another 2-3 minutes until softened.
Pour the whisked eggs into the pan and let them cook for a minute or so.
Sprinkle the crumbled feta cheese, chopped Kalamata olives, and dried oregano over the omelette.
Using a spatula, fold the omelette in half and cook for another minute or so until the cheese is melted.
Serve warm with a slice of toasted bread and a cup of Greek coffee or tea.
Why You Should Try This Recipe:
It's a nutritious and filling breakfast option.
It's easy to make and requires only a few ingredients.
It's a great way to add some Greek flavors to your mornings.
It's a perfect dish to share with friends and family on lazy weekends.
In Conclusion:
Starting your day with a healthy and delicious breakfast is essential for your overall well-being. This authentic Greek recipe for a feta omelette with Kalamata olives is a perfect way to add some Mediterranean flavors to your morning routine. Try it and let us know how it tastes!