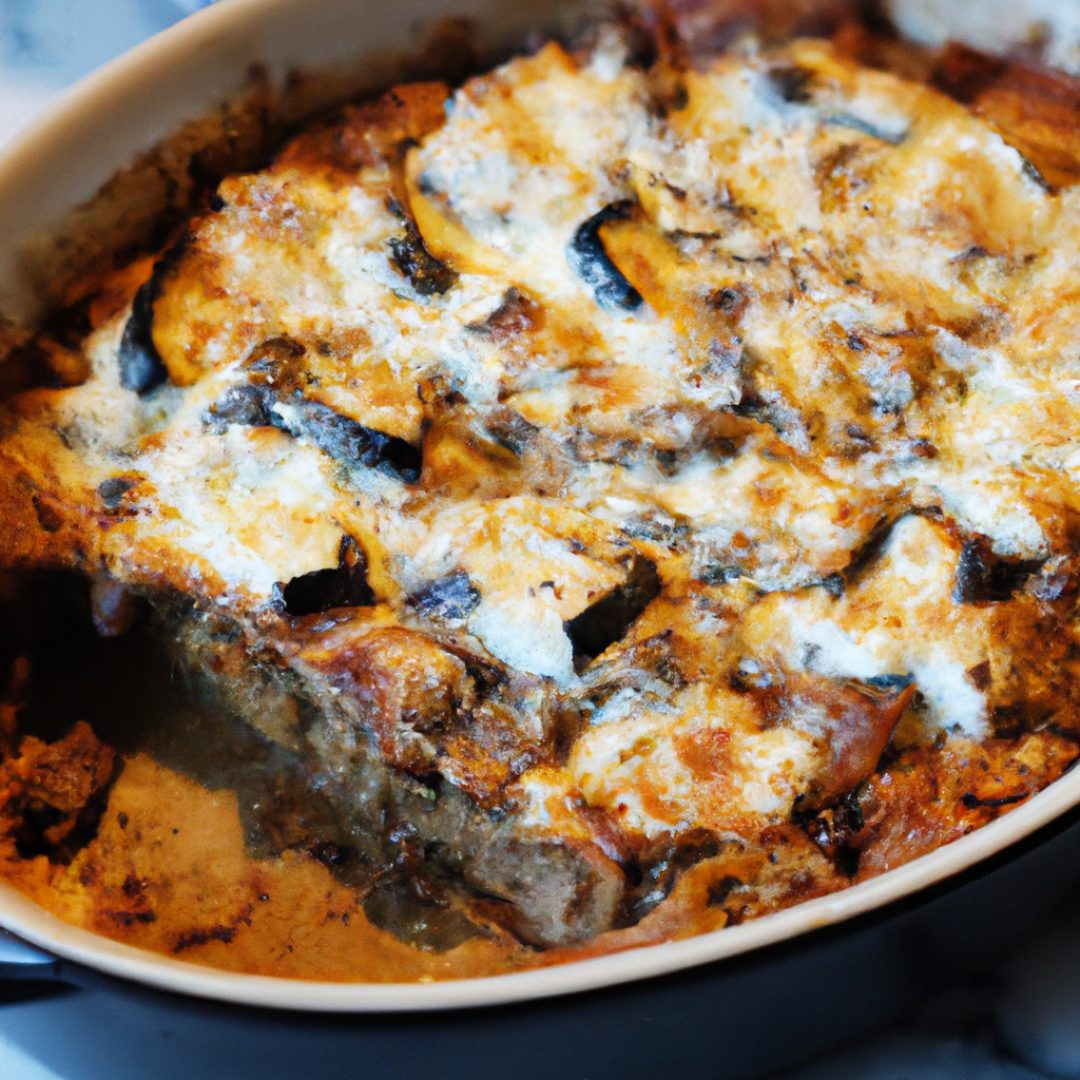 What makes this moussaka recipe vegan-friendly?
Intro:
If you're looking for a dish that indulges the senses, look no further than this vegan moussaka recipe. Packed with the flavors of Greece, this hearty dish is perfect for satisfying your cravings. Whether you're vegan or not, this moussaka recipe is sure to be a hit with everyone at the table!
Ingredients:
– 3 eggplants, sliced
– 3 zucchinis, sliced
– 1 onion, chopped
– 3 garlic cloves, minced
– 2 cups of tomato sauce
– 1/2 cup of red wine
– 2 tbsp of olive oil
– 2 tbsp of dried oregano
– salt and pepper
– 2 cups of vegan béchamel (recipe below)
– Vegan Béchamel:
– 4 tbsp of vegan butter
– 4 tbsp of flour
– 2 cups of soy milk
– 1/2 tsp of nutmeg
– salt and pepper
Instructions:
1. Preheat the oven to 375°F.
2. Slice the eggplants and zucchinis and lay them out on a baking sheet. Drizzle with olive oil and sprinkle with salt and pepper. Roast in the oven for 15-20 minutes, or until they are tender and lightly browned. Set aside.
3. In a saucepan, heat the olive oil and sauté the onions until they are translucent. Add the garlic and sauté for 1-2 minutes.
4. Add the tomato sauce, red wine, and oregano to the saucepan, and let the mixture simmer for 10-15 minutes.
5. While the sauce is simmering, make the vegan béchamel. In a separate saucepan, melt the vegan butter over medium heat. Add the flour and whisk until combined. Gradually add the soy milk while whisking continuously. Add the nutmeg, salt, and pepper to taste and continue to whisk until the béchamel thickens.
6. Once the sauce has simmered, pour half of it into a baking dish. Add a layer of roasted eggplants and zucchinis on top, followed by another layer of sauce. Continue to layer until all the vegetables and sauce have been used up.
7. Pour the vegan béchamel over the top of the moussaka.
8. Bake in the oven for 45-50 minutes, or until the top is golden brown.
9. Let the moussaka cool for a few minutes before serving.
Outro:
Indulge in the flavors of Greece with this delicious vegan moussaka recipe. Whether you're looking for a hearty and satisfying vegan meal, or you simply love the flavors of the Mediterranean, this dish is sure to hit the spot. So gather your ingredients, fire up your oven, and get ready to indulge in the rich flavors of Greece with this mouth-watering moussaka recipe.