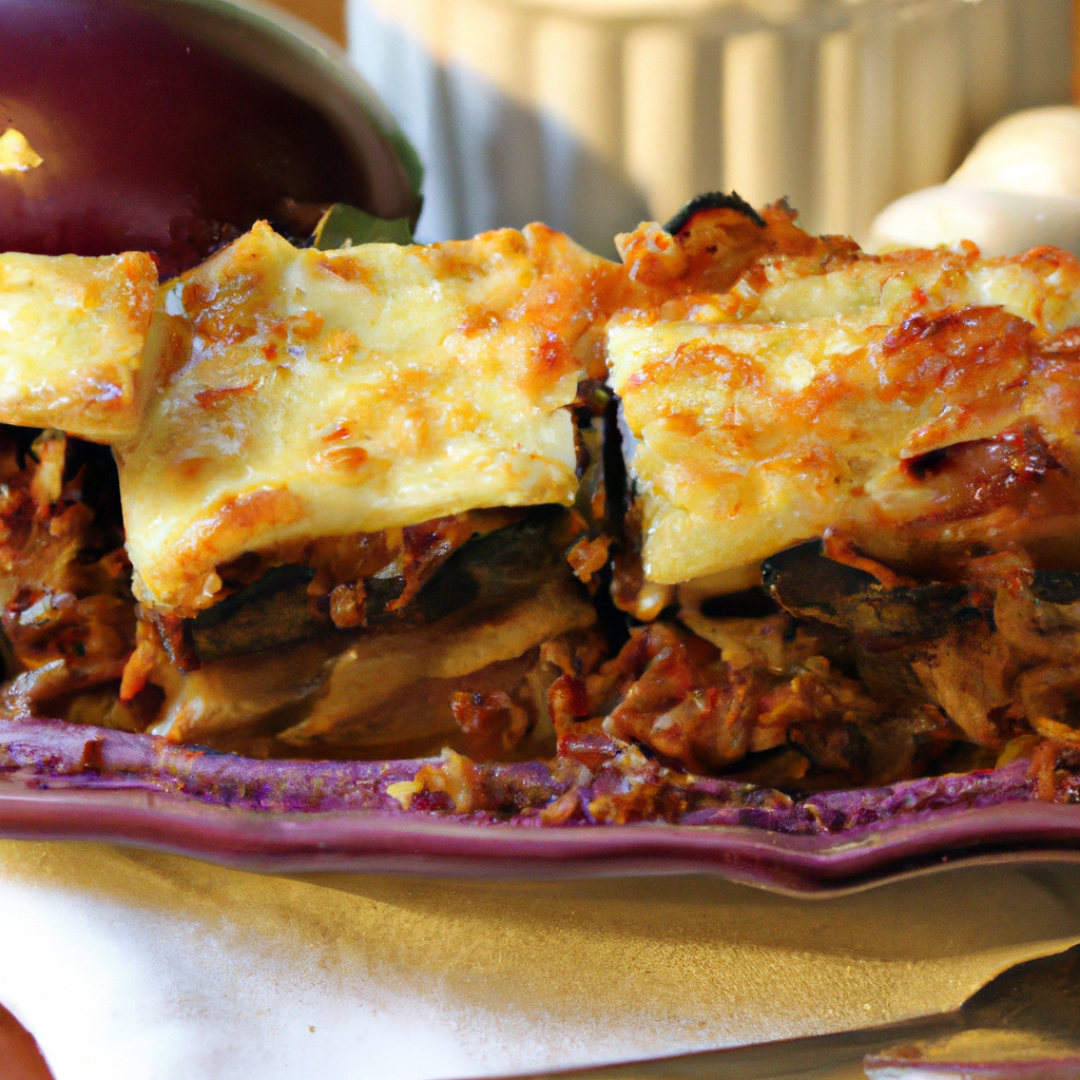 What inspired the creation of the vegan moussaka recipe?
Indulge in Greek Flavors with a Delicious Vegan Moussaka Recipe
If you love Greek food, you're going to adore this vegan moussaka recipe! Traditionally, moussaka is made with layers of meat and eggplant, but this vegan version swaps out the meat for lentils and the bechamel sauce for a creamy cashew-based sauce, making it completely dairy-free.
Ingredients:
2 eggplants, sliced into rounds
1 cup cooked lentils
1 onion, diced
3 cloves garlic, minced
1 can diced tomatoes
1 tablespoon tomato paste
1 teaspoon dried oregano
1 teaspoon dried basil
1/2 teaspoon cinnamon
1/4 teaspoon nutmeg
1/4 cup chopped parsley
Salt and pepper, to taste
1/2 cup raw cashews, soaked overnight or boiled for 10 minutes
1/2 cup water
2 tablespoons nutritional yeast
1 tablespoon lemon juice
1/4 teaspoon garlic powder
Instructions:
Preheat your oven to 400 degrees F (200 degrees C).
Place the eggplant slices on a baking sheet and bake for 20 minutes, or until tender.
While the eggplant is baking, heat some oil in a large frying pan over medium heat.
Add the onion and garlic, and cook until the onion is soft and translucent.
Add the lentils, diced tomatoes, tomato paste, oregano, basil, cinnamon, nutmeg, parsley, salt, and pepper to the frying pan.
Simmer for 10-15 minutes, or until the lentils are heated through and the sauce has thickened.
In a blender, combine the soaked cashews, water, nutritional yeast, lemon juice, garlic powder, salt, and pepper. Blend until smooth and creamy.
To assemble the moussaka, spread half of the lentil mixture in the bottom of a baking dish.
Layer half of the eggplant slices on top of the lentils.
Repeat with the remaining lentil mixture and eggplant slices.
Pour the cashew sauce over the top of the moussaka.
Bake for 30-35 minutes, or until the top is golden and bubbly.
Allow the moussaka to cool for 5-10 minutes before serving.
Gallery:
Video: