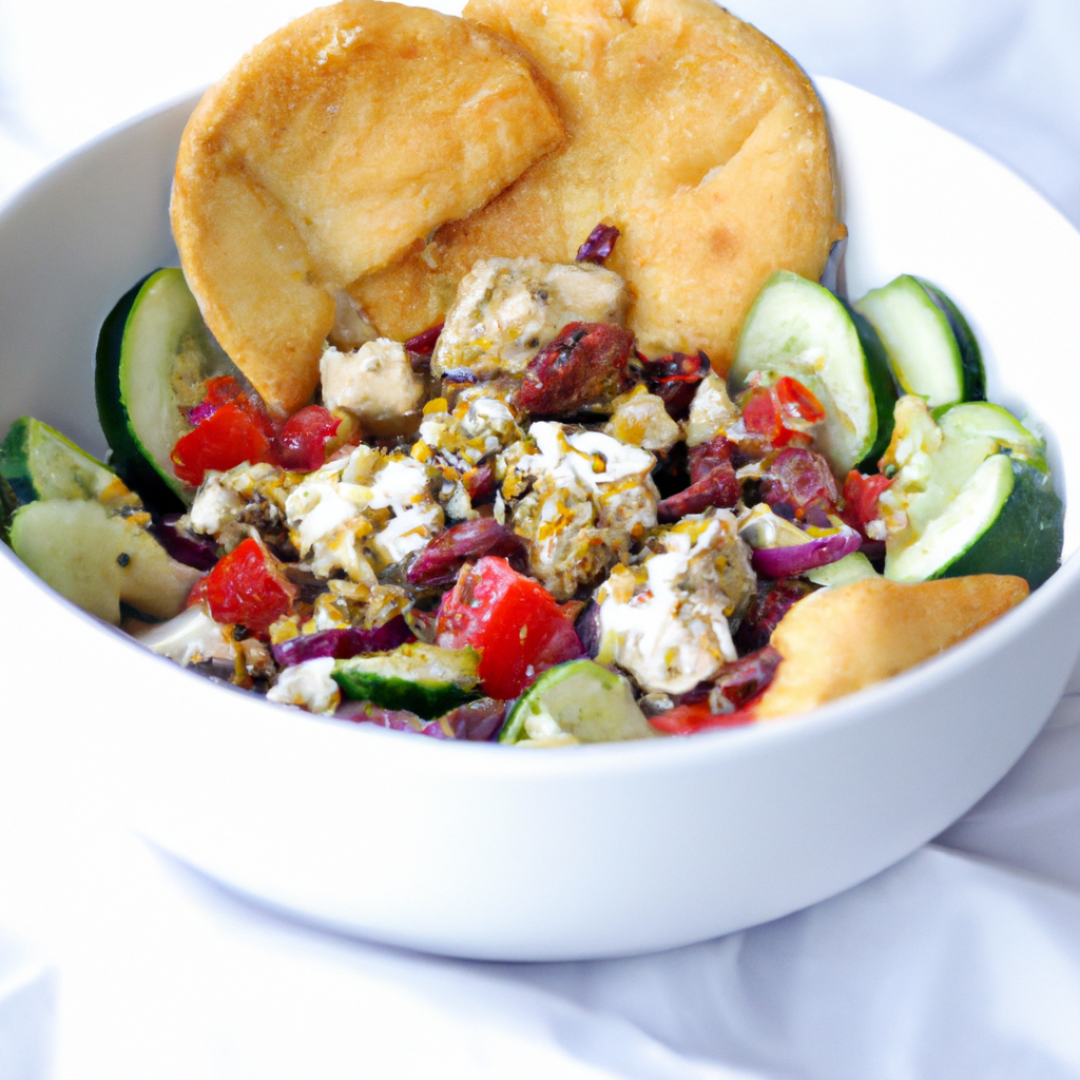 What are the nutritional benefits of Greek Salad and Homemade Hummus?
Mouthwatering Greek Salad with Homemade Hummus and Pita Bread Recipe
Introduction
Looking for a simple way to add a taste of the Mediterranean to your next meal? This mouthwatering Greek salad with homemade hummus and pita bread recipe is the perfect choice. Bursting with flavor and loaded with healthy ingredients, this is a dish that will please everyone at the table.
Ingredients
2 cups of cherry tomatoes, halved
1 cucumber, chopped
1 red onion, chopped
1 green bell pepper, chopped
1/2 cup of kalamata olives, pitted and sliced
1/2 cup of crumbled feta cheese
1/4 cup of olive oil
2 tablespoons of red wine vinegar
1 teaspoon of dried oregano
Salt and pepper to taste
Instructions
Making the Salad
In a large bowl, combine the cherry tomatoes, cucumber, red onion, green bell pepper, and kalamata olives.
Add the crumbled feta cheese and toss to combine.
In a small bowl, whisk together the olive oil, red wine vinegar, dried oregano, salt, and pepper.
Pour the dressing over the salad and toss to coat.
Homemade Hummus
Ingredients:
1 can of chickpeas, drained and rinsed
2 cloves of garlic, minced
1/4 cup of tahini
3 tablespoons of olive oil
2 tablespoons of lemon juice
1/4 teaspoon of cumin
Salt and pepper to taste
Instructions:
In a food processor, combine the chickpeas, garlic, tahini, olive oil, lemon juice, cumin, salt, and pepper.
Pulse until smooth and creamy, scraping down the sides of the bowl as needed.
Transfer the hummus to a serving bowl and refrigerate until ready to use.
Pita Bread
Ingredients:
2 cups of flour
1 teaspoon of salt
1 tablespoon of sugar
2 tablespoons of olive oil
1/2 cup of warm water
1 tablespoon of active dry yeast
Instructions:
In a large mixing bowl, combine the flour, salt, and sugar.
In a separate bowl, combine the warm water and active dry yeast. Let sit for 5 minutes until frothy.
Add the olive oil to the yeast mixture and stir to combine.
Pour the yeast mixture into the flour mixture and stir until a dough forms.
Knead the dough on a floured surface for 5-10 minutes until smooth and elastic.
Place the dough in a greased bowl and cover with a kitchen towel. Let rise for 1 hour.
Preheat the oven to 475°F.
Punch down the dough and divide it into 8 equal pieces.
Roll each piece into a circle about 1/4 inch thick.
Place the circles on a baking sheet and bake for 5-7 minutes until golden brown.
Outro
With its fresh, bold flavors and satisfying crunch, this Greek salad with homemade hummus and pita bread is sure to become a family favorite. Whether you're serving it as a healthy lunch or a crowd-pleasing dinner, this recipe is an easy and delicious way to enjoy the rich cuisine of the Mediterranean.