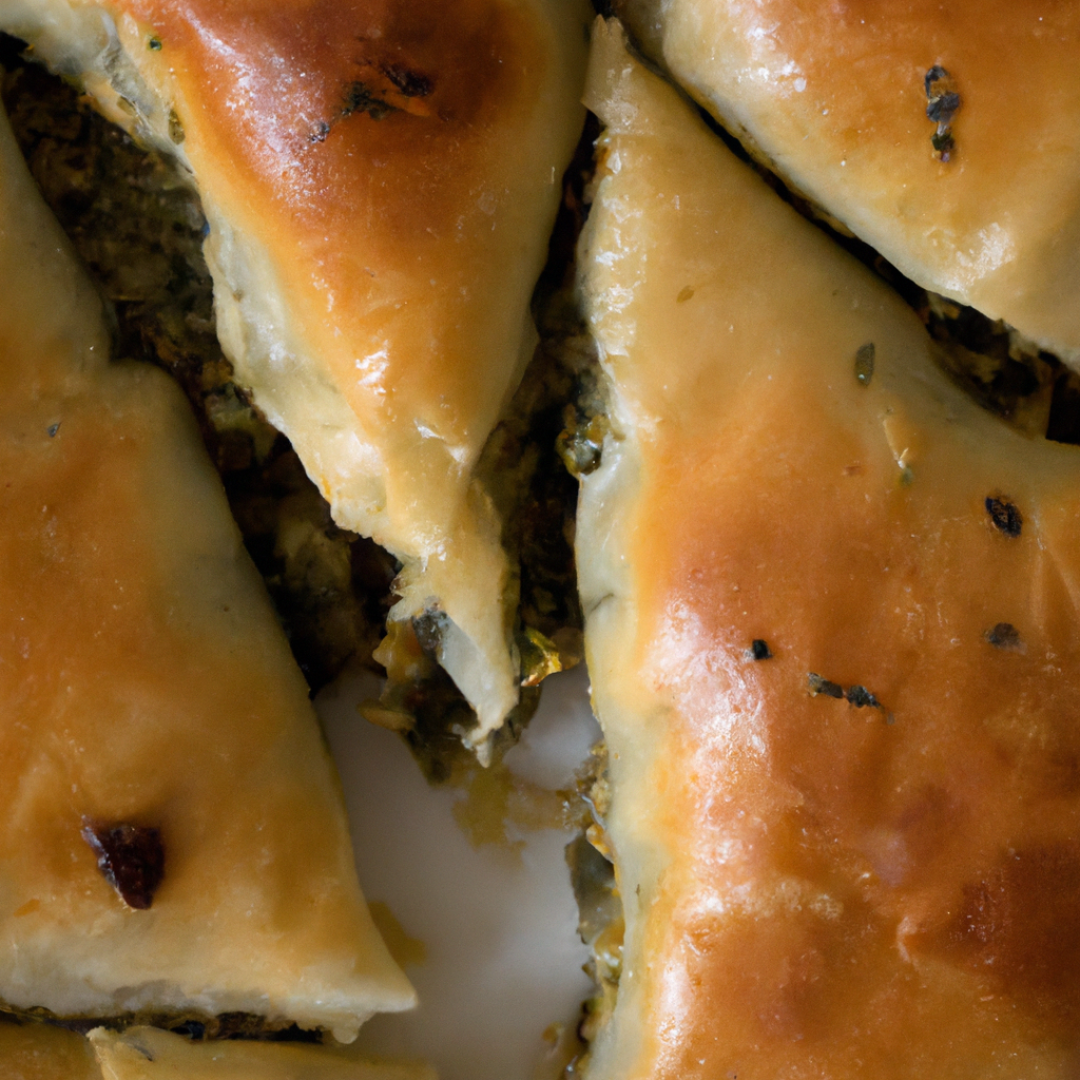 What traditional ingredients make a spanakopita recipe truly Greek?
Deliciously Greek and 100% Vegan: Try this Traditional Spanakopita Recipe!
Welcome to our vegan twist on the classic Greek dish, Spanakopita!
Spanakopita is a savory pastry made of spinach and feta cheese, and typically enjoyed as an appetizer or main dish. Our vegan version of this traditional Greek dish is just as delicious and satisfying, but with a plant-based twist! Try out our recipe for a healthy and flavorful meal that everyone will enjoy.
Ingredients:
1 lb fresh spinach, stemmed and chopped
1/2 cup chopped fresh dill
1/3 cup chopped green onions
2 cloves garlic, minced
1/4 tsp salt
1/4 tsp black pepper
1/2 cup vegan ricotta cheese
1/2 cup vegan feta cheese, crumbled
1/4 cup olive oil, plus more for brushing phyllo dough
1 package phyllo dough, thawed according to package directions
Instructions:
Preheat the oven to 375°F.
In a large bowl, mix together the chopped spinach, dill, green onions, garlic, salt, and pepper.
Add the vegan ricotta and vegan feta cheeses, and stir to combine.
Brush a 9×13 inch baking dish with olive oil.
Unroll the phyllo dough and cut it into 12-inch squares.
Place one sheet of phyllo dough in the prepared baking dish, and brush it with olive oil.
Repeat with 7 more sheets of phyllo, brushing each sheet with olive oil as you lay it in the dish.
Spoon the spinach and cheese mixture over the phyllo dough in the baking dish.
Add 8 more sheets of phyllo dough on top of the spinach mixture, brushing each sheet with olive oil as you lay it in the dish.
Brush the top of the spanakopita with olive oil.
Bake for 35-40 minutes, or until the phyllo dough is golden brown and crisp.
Cut the spanakopita into individual portions, and serve hot.
Enjoy your traditional Spanakopita with a Deliciously Vegan Twist
Now that you know how to make a delicious and vegan-friendly version of the classic Spanakopita, it's time to get cooking! This spinach and cheese-filled pastry is a perfect appetizer or main dish for any occasion – from family dinners to special events. Give this recipe a try and impress your guests with the flavors of Greek cuisine, made vegan by using plant-based alternatives to traditional cheese and eggs!