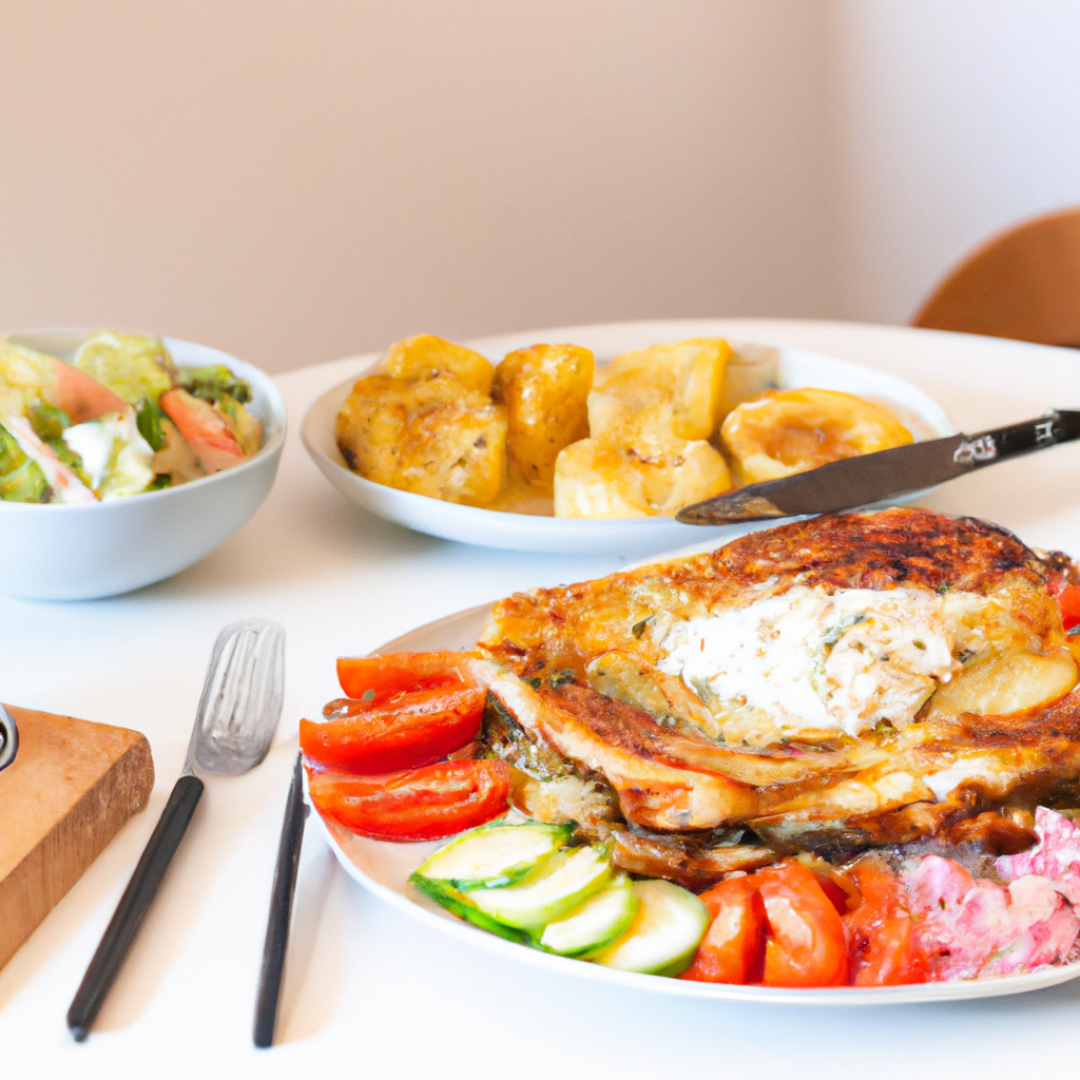 What are the three courses included in the Greek lunch recipe?
Experience the Flavors of Greece with this Easy 3-Course Greek Lunch Recipe
Introduction
Greece is known for its delicious cuisine and Mediterranean ingredients. Bring the flavors of Greece to your lunchtime with this easy-to-make 3-course meal. Impress your friends and family with a taste of Greece that will transport them to the shores of the Aegean Sea.
Starters: Tzatziki Dip and Pita Bread
1 cup plain Greek yogurt
1/2 cucumber, peeled and grated
1 clove garlic, minced
1 tablespoon olive oil
1 tablespoon fresh dill
Salt and pepper to taste
Pita bread for serving
To make the tzatziki dip, mix together the Greek yogurt, grated cucumber, minced garlic, olive oil, and fresh dill in a bowl. Season with salt and pepper to taste. Serve with pita bread.
Main Course: Greek Salad with Grilled Chicken
2 chicken breasts
1/2 cup olive oil
1 tablespoon dried oregano
Salt and pepper to taste
1 head of lettuce, chopped
1 cucumber, chopped
1 red onion, sliced thinly
1 green pepper, sliced thinly
1/2 cup Kalamata olives
1/2 cup feta cheese
1 lemon, juiced
1/4 cup red wine vinegar
To make the main course, season the chicken breasts with olive oil, dried oregano, salt, and pepper. Grill until cooked through and set aside to cool. In a large bowl, combine the chopped lettuce, cucumber, red onion, green pepper, and Kalamata olives. Crumble the feta cheese over the top. In a small bowl, whisk together the lemon juice, red wine vinegar, and remaining olive oil. Pour over the salad and toss to coat. Slice the grilled chicken and add on top of the salad.
Dessert: Baklava
1/2 cup chopped walnuts
1/2 cup chopped almonds
1/2 cup honey
1/2 teaspoon cinnamon
1 package phyllo dough
1/2 cup melted butter
To make dessert, preheat the oven to 350 degrees Fahrenheit. In a bowl, combine the chopped walnuts, chopped almonds, honey, and cinnamon. Grease a baking dish. Unroll the phyllo dough and lay one sheet in the baking dish. Brush with the melted butter. Layer another sheet of phyllo dough on top and brush with butter. Repeat until you have used half of the phyllo dough. Add the nut mixture in an even layer. Layer the remaining phyllo dough sheets on top, brushing with butter between each layer. Bake for 30 minutes or until golden brown. Remove from the oven and let cool before serving.