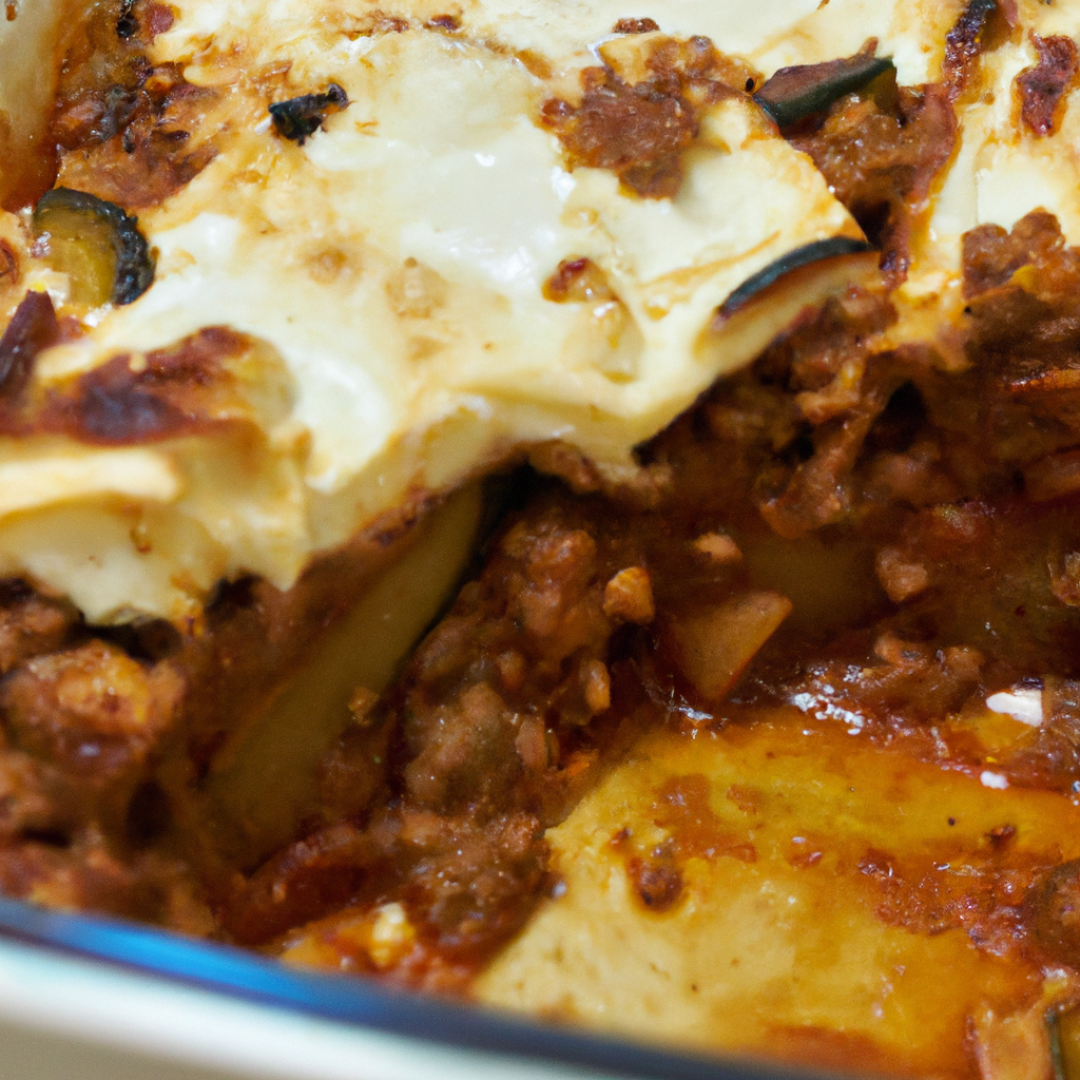 What makes this particular moussaka recipe both delicious and healthy?
Delicious and Healthy: Try This Homemade Greek Vegan Moussaka Recipe Today!
Moussaka is a traditional Greek dish made with layers of eggplant, ground beef, and creamy béchamel sauce. This vegan version of moussaka is just as delicious, using lentils instead of meat and a cashew-based béchamel. It's also a healthier version, as it's loaded with plant-based protein and nutrients. Plus, it's super easy to make and perfect for serving to a crowd. Give it a try and impress your friends and family with your vegan cooking skills!
Ingredients:
2 large eggplants, sliced about 1/4 inch thick
2 cups of cooked lentils
1 onion, chopped
4 cloves of garlic, minced
1 can of diced tomatoes
1/4 cup of chopped fresh parsley
1/4 cup of chopped fresh basil
1/2 teaspoon of dried oregano
1/2 teaspoon of salt
1/4 teaspoon of black pepper
1 cup of raw cashews, soaked
1/4 cup of nutritional yeast
1 tablespoon of lemon juice
1/2 teaspoon of garlic powder
1/2 teaspoon of salt
1 1/2 cups of unsweetened almond milk
Instructions:
Preheat the oven to 350°F (175°C).
Place the sliced eggplants on a baking sheet lined with parchment paper. Brush with olive oil and a pinch of salt. Roast in the oven for 20 minutes or until tender. Remove from the oven and set aside.
In a large pan, sauté the onion and garlic in olive oil over medium heat until translucent. Add the cooked lentils, diced tomatoes, parsley, basil, oregano, salt, and pepper. Stir and cook for 5-7 minutes until the tomatoes have broken down and everything is well combined. Turn off the heat and set aside.
To make the cashew béchamel sauce, combine the soaked cashews, nutritional yeast, lemon juice, garlic powder, salt, and almond milk in a high-speed blender. Blend until smooth and creamy.
To assemble the moussaka, spread a layer of the lentil mixture in a 9×13 inch baking dish. Top with a layer of roasted eggplant. Repeat with another layer of lentil mixture and eggplant until all the ingredients are used up. Pour the cashew béchamel sauce over the top of the dish.
Bake the moussaka in the oven for 35-40 minutes or until the top is golden and bubbly. Let cool for 10-15 minutes before serving.
Conclusion:
So there you have it, a delicious and healthy recipe for vegan moussaka with Greek flavor that's easy to make and perfect for serving to a crowd. This is a great dish to make for a family gathering or potluck, as it's sure to impress everyone with its rich flavor and creamy texture. Give it a try today and enjoy the taste of Greece in the comfort of your own home!