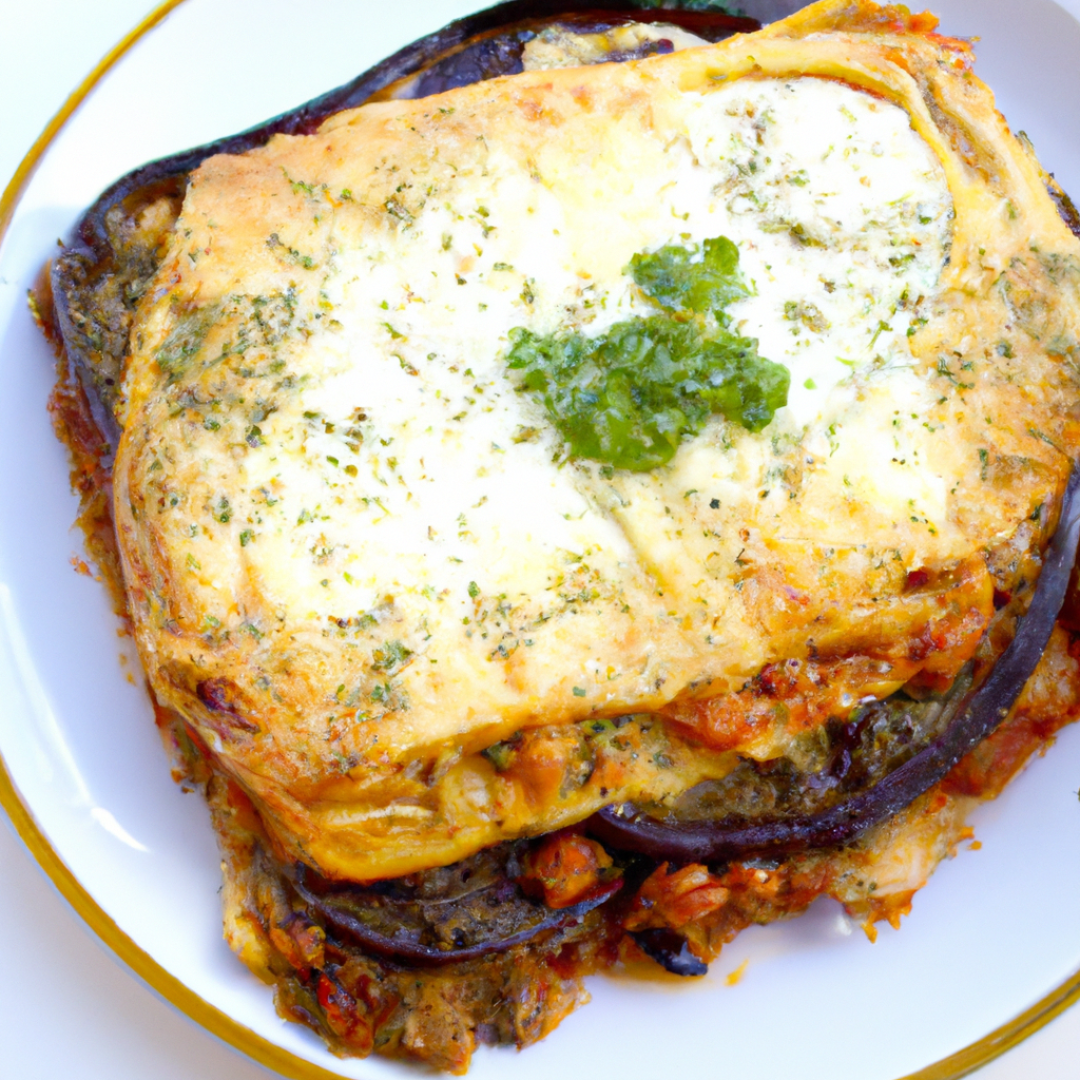 What are the traditional ingredients in a Greek moussaka dish?
Opa! Enjoy the Flavors of Greece with this Delicious Vegan Moussaka Recipe!
Introduction
Greek cuisine is known for its use of fresh and flavorful ingredients that make every bite feel like a gastronomic experience. One of the most famous dishes from Greece is moussaka, which is traditionally made with ground beef, eggplant, and béchamel sauce. However, here we have a vegan version that will satisfy the craving for moussaka without harming any animal. Made with lentils, eggplant, and cashew cream, this vegan moussaka is mouthwatering and a perfect comfort food to enjoy at home.
Ingredients
2 large eggplants
1 cup of green lentils
2 tbsp of olive oil
1 large onion, finely chopped
3 garlic cloves, minced
2 tsp of dried oregano
2 tbsp of tomato paste
1 cup of crushed tomatoes
1 cup of vegetable broth
1/4 tsp of ground cinnamon
1/4 tsp of ground nutmeg
Cashew Cream:
1 cup of cashews, soaked overnight
1/2 cup of vegetable broth
1 tbsp of lemon juice
1 tsp of garlic powder
1/4 tsp of salt
Instructions
Preheat the oven at 375°F.
Cut the eggplants into round slices and sprinkle with salt. Let them sit for 20 minutes to release any bitterness. Rinse and pat dry.
In a pot, cook the lentils according to the package, until they are soft but not mushy. Drain and set aside.
In a pan, heat the olive oil and sauté the onion and garlic until they are fragrant.
Add the oregano and tomato paste and cook for another minute.
Add the crushed tomatoes, vegetable broth, cinnamon, nutmeg, and lentils. Let it simmer for 15 minutes until everything is well combined and the sauce is thicked.
While the sauce is simmering, make the cashew cream. Blend all the ingredients in a high-speed blender until smooth and creamy.
In a baking dish, start by placing a layer of eggplant slices at the bottom. Top with a layer of lentil sauce, then with another layer of eggplant. Repeat until you finish all the ingredients.
Finish by pouring the cashew cream over the layers of eggplant and lentil sauce.
Cover the dish with foil and bake it for 30 minutes. Remove the foil and bake it for 10 more minutes until the top is golden and crispy.
Let it cool for 10 minutes before slicing and serving.
Outro
With its wholesome ingredients and rich flavors, this vegan moussaka recipe is a must-try for all the food lovers out there. Whether you are vegan or not, this Greek classic is a great way to add more variety to your weekly meals. So, get ready to dig in and savor every bite of this plant-based delight!