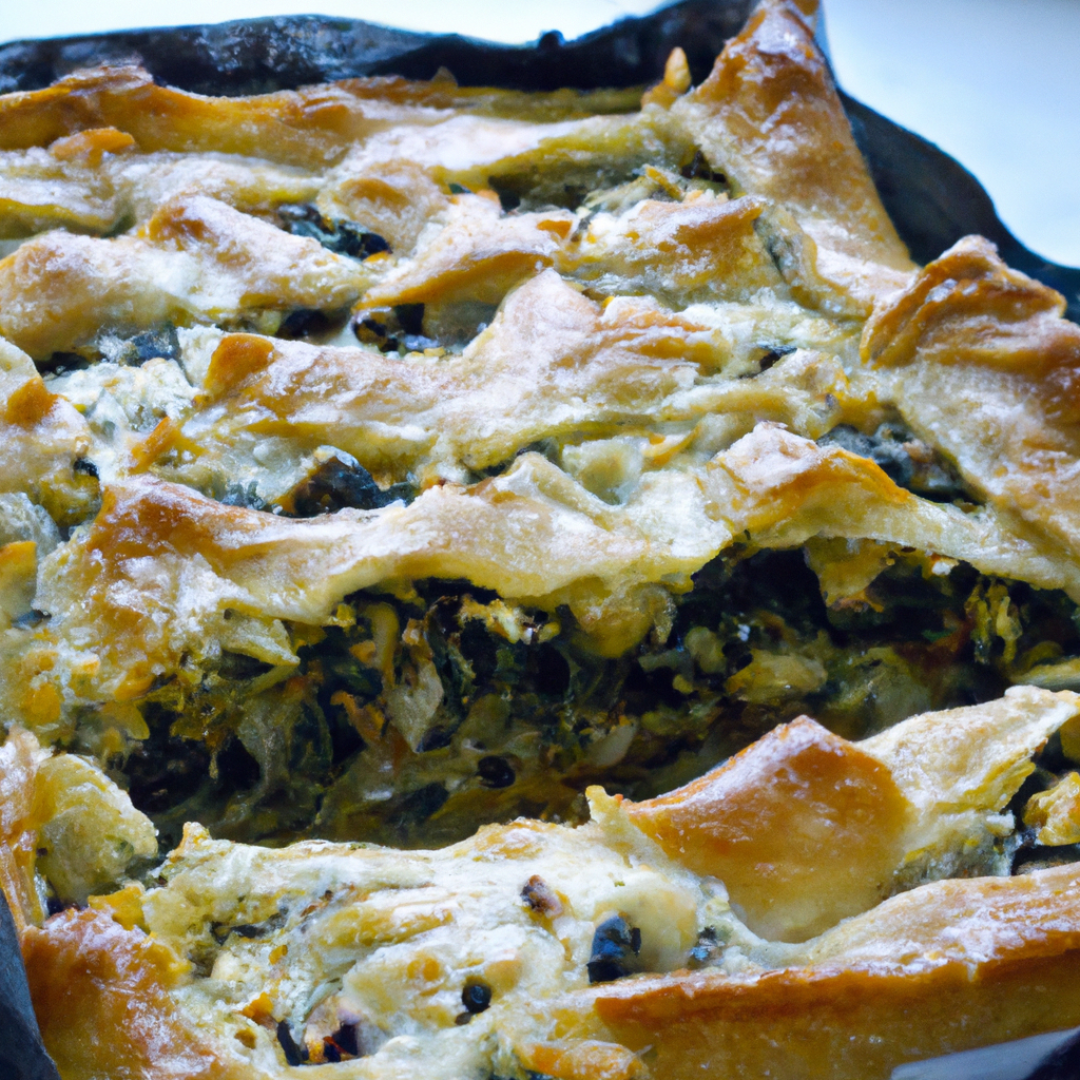 What are the key ingredients required to make this vegan Greek spinach and feta pie?
Indulge in Vegan Greek Delights: Try This Mouth-Watering Greek Spinach & Feta Pie Recipe!
Greek cuisine is famous for its rich flavors, wholesome ingredients, and hearty portions. However, many classic Greek dishes are not vegan-friendly, as they often rely on meat, dairy and eggs. Fortunately, with a little creativity, you can adapt these recipes to create delicious vegan versions that capture the spirit of Greece, without compromising on taste or nutrition.
The Recipe
This vegan Greek spinach and feta pie is a perfect example of a dish that can be easily veganized without sacrificing its authenticity. Made with crispy filo pastry, nutritious spinach, and tangy vegan feta cheese, this pie is a golden delight that will satisfy your cravings for comfort food.
Ingredients
1 pack of vegan filo pastry
1 onion, chopped
2 garlic cloves, chopped
500g of spinach, washed and chopped
100g of vegan feta cheese, crumbled
1/2 teaspoon of ground nutmeg
1 tablespoon of olive oil
Salt and pepper to taste
Instructions
Preheat the oven to 180°C/gas mark 4.
Heat the olive oil in a large frying pan over medium heat and add the chopped onion and garlic. Fry for 3-4 minutes, or until soft and translucent.
Add the chopped spinach to the pan and stir until wilted. Season with salt, pepper, and nutmeg, then remove from the heat and allow to cool.
Unroll the filo pastry and lay it flat on a clean surface. Cut it into strips, each about 10cm wide.
Brush each strip with olive oil and lay them one on top of the other, until you have a stack of 5-6 strips.
Place the spinach and feta mixture in the middle of the stacked pastry and fold the edges over the filling to create a circular pie.
Brush the pie with a little more olive oil and bake in the oven for 25-30 minutes, or until golden brown and crispy on the outside.
Serve hot or cold, with a drizzle of lemon juice and some fresh herbs on top.
Nutrition Information
| Per serving | Amount |
| --- | --- |
| Calories | 254 |
| Protein | 6.2g |
| Carbohydrates | 23.5g |
| Fat | 15.6g |
| Fiber | 3.5g |
| Sugar | 1.2g |
| Sodium | 356mg |
Whether you're vegan, vegetarian, or just looking for a healthier option, this Greek spinach and feta pie is a recipe you don't want to miss. It's a perfect balance of flavors and textures, and it's easy to make with simple ingredients that you can find in any regular shop. Give it a try and let us know how it turned out!