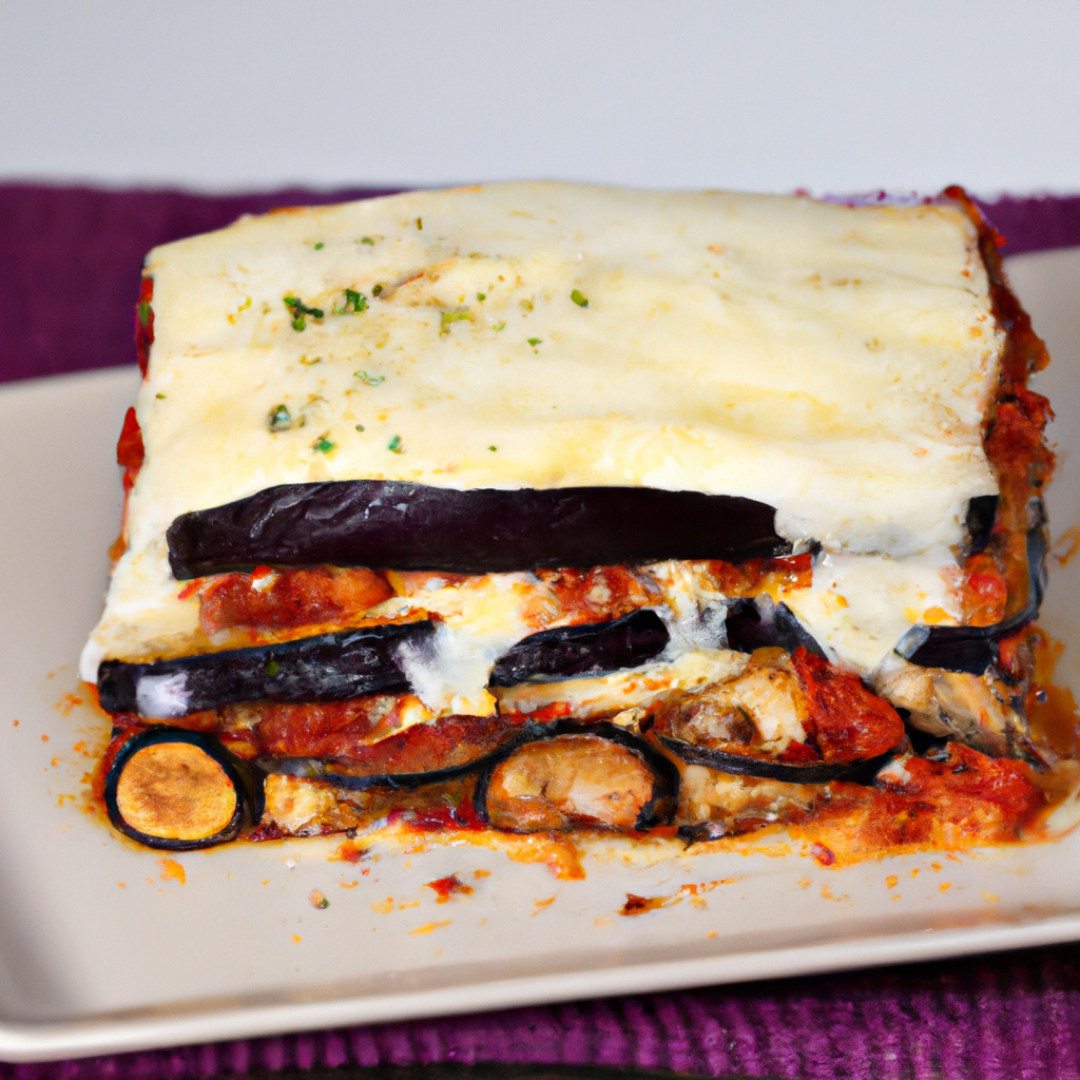 What substitutions are made in this Greek vegan moussaka recipe to make it plant-based?
Delicious Greek Vegan Moussaka Recipe: A Twist on a Classic Dish
If you're looking for a delicious vegan twist on the classic Greek dish moussaka, look no further than this recipe. Packed with flavor and loaded with nutritious ingredients, you won't even miss the meat in this hearty and satisfying dish. Best of all, it's easy to make and perfect for a special occasion or a cozy night in.
Ingredients:
2 medium eggplants, sliced into 1/4 inch rounds
1 teaspoon salt
1 tablespoon olive oil
1 yellow onion, chopped
3 cloves garlic, minced
1 red pepper, diced
1 cup mushrooms, sliced
1/2 teaspoon dried oregano
1/2 teaspoon dried thyme
1/2 teaspoon smoked paprika
1/4 teaspoon black pepper
1/4 teaspoon cinnamon
1/4 teaspoon allspice
1 (15 oz) can chickpeas, drained and rinsed
1 (14 oz) can diced tomatoes
2 tablespoons tomato paste
1/2 cup vegetable broth
1 tablespoon lemon juice
1/4 cup chopped fresh parsley
1/4 cup breadcrumbs
1/4 cup vegan parmesan cheese
1 tablespoon vegan butter
Instructions:
Preheat the oven to 375°F. Line a baking sheet with parchment paper and place the sliced eggplant on top. Sprinkle with salt and let sit for 15-20 minutes to remove excess moisture. Rinse and pat dry with paper towels.
Heat the olive oil in a large skillet over medium heat. Add the onion and garlic and cook until softened, about 3 minutes. Add the red pepper, mushrooms, oregano, thyme, paprika, black pepper, cinnamon, and allspice. Cook for about 5 minutes until the vegetables are softened.
Add the chickpeas, diced tomatoes, tomato paste, vegetable broth, and lemon juice to the skillet. Stir to combine and bring to a simmer. Cook for about 5 minutes until the mixture has thickened slightly.
Grease a 9×13 inch baking dish with olive oil or cooking spray. Arrange a layer of the sliced eggplant on the bottom of the dish. Spoon half of the chickpea mixture over the eggplant. Arrange another layer of eggplant on top of the chickpea mixture. Spoon the remaining chickpea mixture over the eggplant.
Mix together the breadcrumbs, vegan parmesan cheese, and vegan butter in a small bowl. Sprinkle over the top of the moussaka.
Bake for about 40-45 minutes until the top is golden brown and crispy. Allow to cool for a few minutes before serving. Garnish with fresh parsley if desired.
Tips and Tricks:
This recipe can be made ahead and frozen for up to 3 months.
For a gluten-free version, use gluten-free breadcrumbs and vegan parmesan cheese.
Feel free to customize this recipe by adding your favorite vegetables or spices.
This delicious Greek vegan moussaka recipe is a great way to jazz up a classic dish. With its hearty chickpea filling, crispy eggplant, and flavorful spices, it's a must-try for any vegan or vegetarian. So what are you waiting for? Grab your ingredients and get cooking!