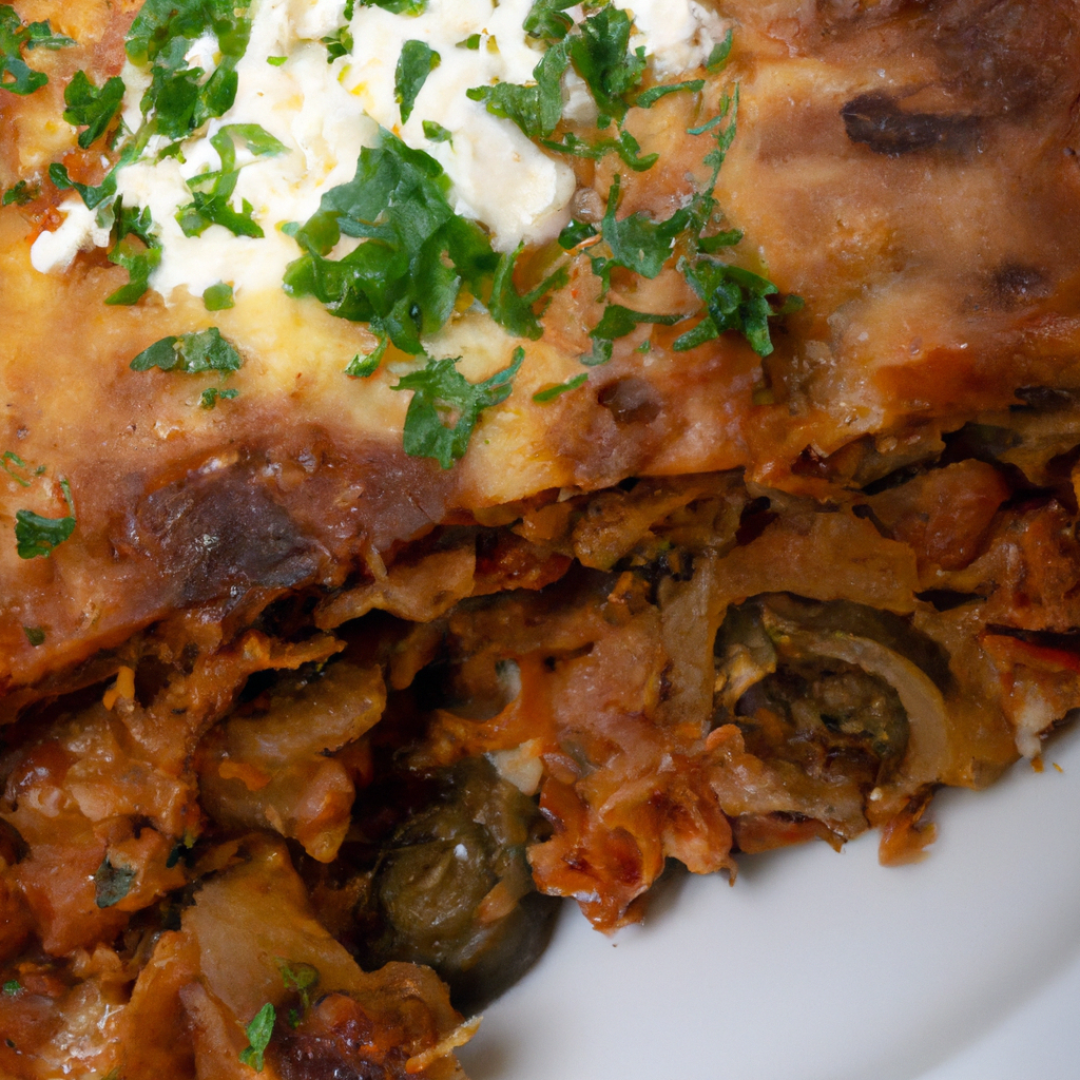 What makes the Greek vegan moussaka recipe a healthy option?
Healthy and Delicious: Try Our Greek Vegan Moussaka Recipe
This Greek-inspired dish is a vegan take on moussaka, a classic comfort food. Our moussaka recipe is not only tasty and satisfying, but also good for your health. It features eggplant and zucchini, two nutrient-dense vegetables with lots of fiber and vitamins. You'll also love our creamy and flavorful vegan béchamel sauce, which is made with cashews instead of dairy. Give this moussaka recipe a try and enjoy a healthy and delicious meal!
Ingredients
2 eggplants, sliced lengthwise into 1/2-inch rounds
2 zucchinis, sliced lengthwise into 1/4-inch rounds
1 onion, chopped
3 garlic cloves, minced
1 can (14 oz) crushed tomatoes
1 tsp dried oregano
1 tsp dried basil
1/2 tsp cinnamon
1/2 tsp smoked paprika
Salt and pepper, to taste
1 cup raw cashews, soaked in water for at least 4 hours
1 1/2 cups water
1/4 cup nutritional yeast
1 tbsp lemon juice
1 tsp garlic powder
1/4 tsp nutmeg
1/4 tsp turmeric
1 tbsp olive oil
Instructions
Preheat the oven to 400°F.
Arrange the eggplant and zucchini slices on two baking sheets lined with parchment paper. Brush with olive oil and season with salt and pepper. Roast for 20 to 25 minutes, or until tender and slightly browned.
While the vegetables are roasting, prepare the tomato sauce. In a large skillet, heat the olive oil over medium heat. Add the chopped onion and sauté for 5 minutes, or until softened. Add the minced garlic and cook for 1 more minute, or until fragrant.
Add the crushed tomatoes, oregano, basil, cinnamon, smoked paprika, salt, and pepper to the skillet. Stir well and bring to a simmer. Cook for 10 to 15 minutes, or until the sauce thickens.
In a blender, combine the soaked cashews, water, nutritional yeast, lemon juice, garlic powder, nutmeg, turmeric, salt, and pepper. Blend until smooth and creamy.
To assemble the moussaka, spread a layer of roasted eggplant slices in the bottom of a 9×13-inch baking dish. Spoon half of the tomato sauce over the eggplant. Add a layer of roasted zucchini slices on top of the tomato sauce. Spoon the remaining tomato sauce over the zucchini. Finally, pour the cashew béchamel sauce over the tomato sauce.
Bake the moussaka in the preheated oven for 30 to 35 minutes, or until bubbly and golden brown. Let it cool for a few minutes before serving.
Note: You can prepare the cashew béchamel sauce ahead of time and refrigerate it until ready to use.