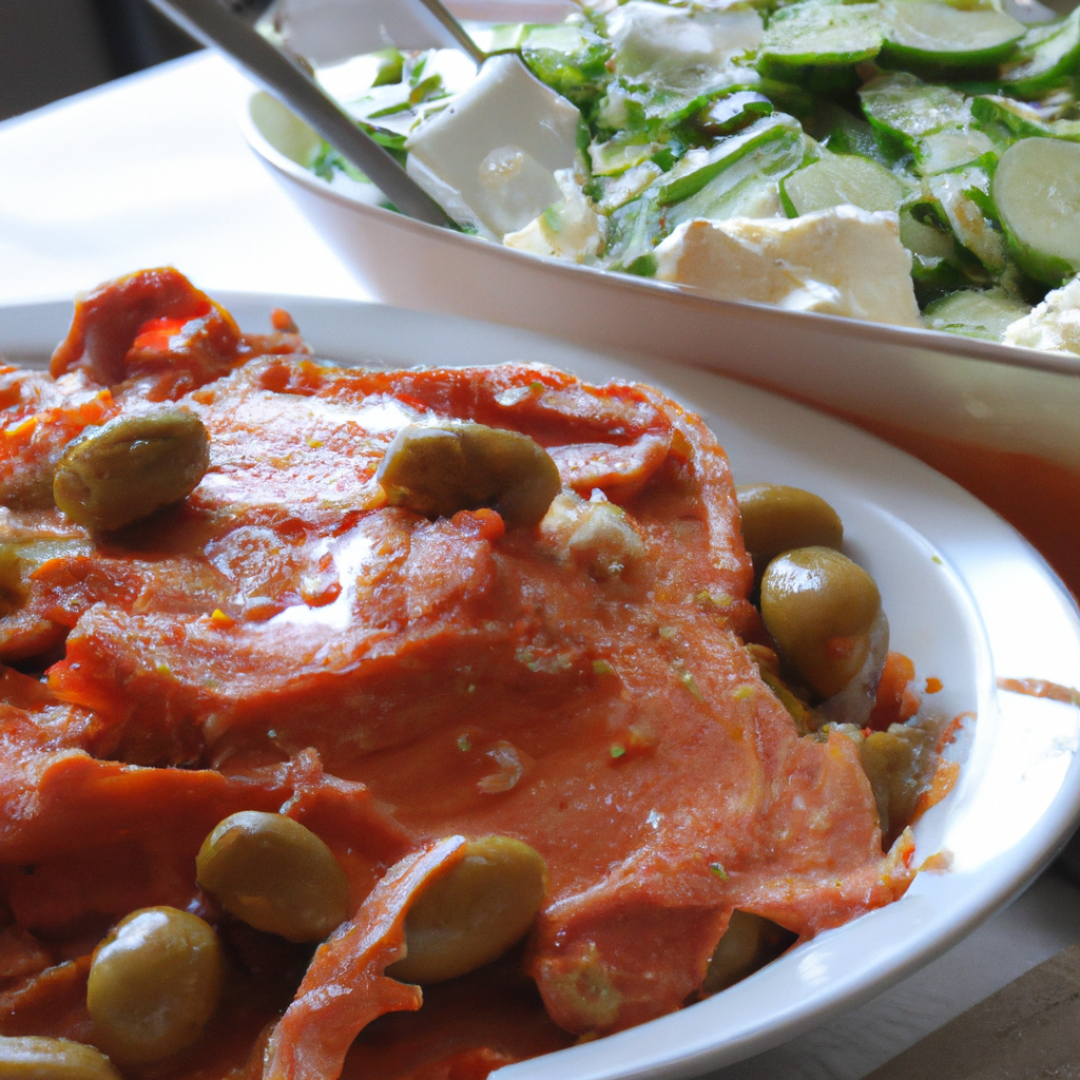 What are the key ingredients for a mouth-watering Greek feast?
Mouth-Watering Greek Feast
A Recipe for a Delicious Dinner at Home
Introduction
If you're looking for a tasty and healthy dinner idea, this Greek feast is the perfect choice. With an array of flavorful dishes, you'll get to experience the vibrancy of Greek cuisine without leaving your home. From rich tzatziki dip to succulent lamb souvlaki, this authentic menu is sure to impress your family and friends.
Ingredients
1 lb

ground lamb

2 cups

Greek yogurt

1 large

cucumber, grated

2 cloves

garlic, minced

1 tbsp

lemon juice

1 tsp

dried oregano

1/4 cup

olive oil

1/4 cup

red wine vinegar

1/2 tsp

dried basil

1/2 tsp

salt

1/4 tsp

black pepper

1 lb

cherry tomatoes

1 large

red onion, cut into wedges

1/2 cup

Kalamata olives

1/4 cup

fresh parsley, chopped

1/4 cup

fresh mint, chopped

1/4 cup

feta cheese, crumbled

1/2 cup

pita bread, warmed
Instructions
Tzatziki Dip
Mix together Greek yogurt, grated cucumber, minced garlic, lemon juice, and dried oregano.
Season with salt and pepper to taste.
Refrigerate for at least 30 minutes before serving.
Greek Salad
In a large bowl, whisk together olive oil, red wine vinegar, dried basil, salt, and black pepper.
Add cherry tomatoes, red onion wedges, and Kalamata olives to the bowl.
Toss everything together until vegetables are coated in the dressing.
Top with fresh parsley, mint, and crumbled feta cheese.
Lamb Souvlaki
Preheat grill to medium-high heat.
Thread ground lamb onto skewers.
Grill the skewers for 3-4 minutes on each side or until fully cooked.
Serve lamb souvlaki with warmed pita bread and tzatziki dip.