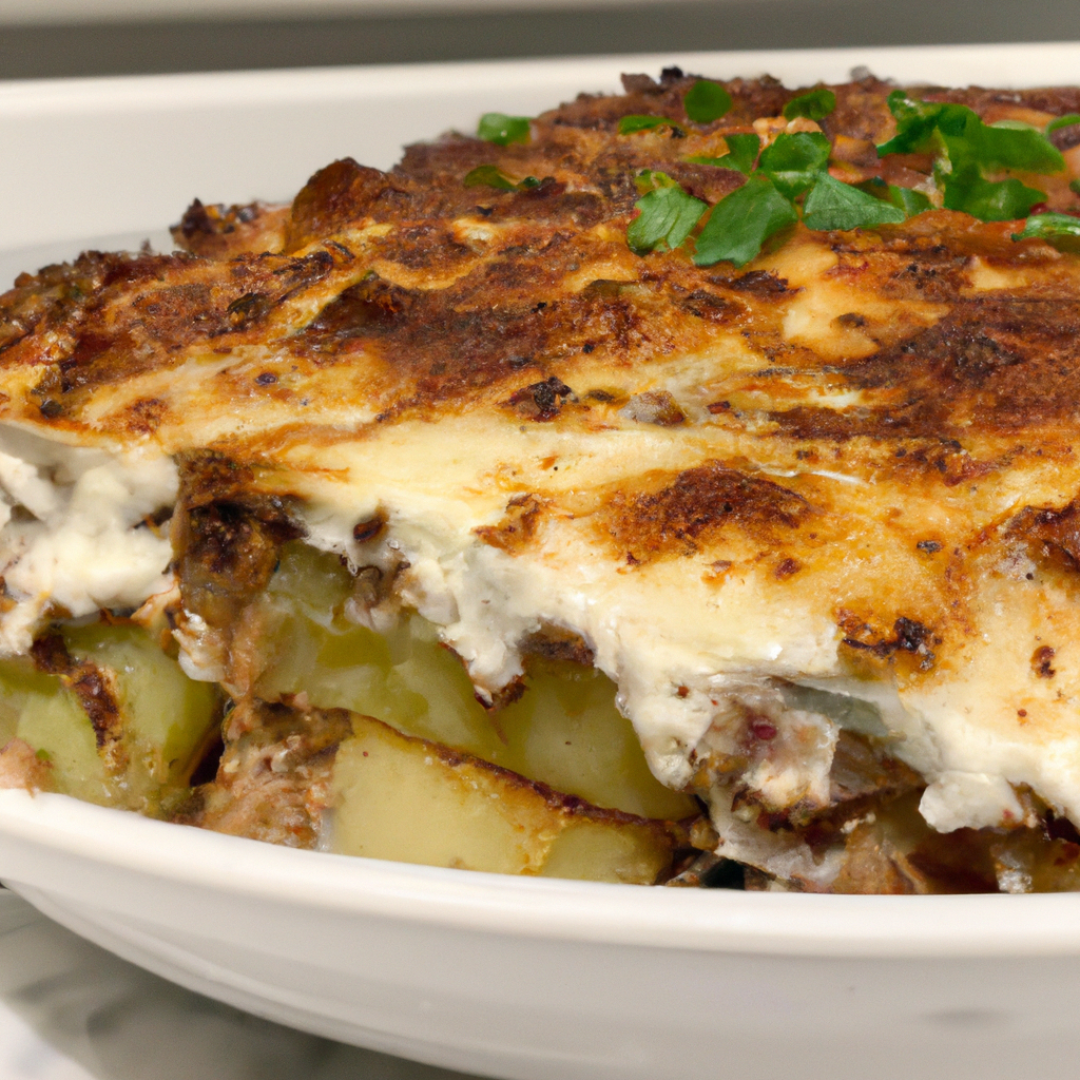 What are some of the key ingredients used in this Greek Vegan Moussaka recipe?
Mouthwatering Greek Vegan Moussaka Recipe
If you are looking for a delicious and healthy vegan recipe, then look no further than this amazing Greek Moussaka recipe that will leave you craving for more. Moussaka is a traditional Greek dish that is usually made with ground lamb, eggplant, and béchamel sauce. However, this version is completely vegan but still packs all the traditional flavors.
It's easy to make and perfect for a cozy night in with family and friends. So grab your apron, let's get started!
Ingredients:
2 eggplants, sliced into rounds
1 tbsp salt
2 tbsp olive oil
1 onion, chopped
4 cloves garlic, minced
1 tsp dried oregano
1 tsp ground cinnamon
1 tbsp tomato paste
1 can (400g) chickpeas, drained and rinsed
1 can (400g) chopped tomatoes
1 tsp sugar
1 tsp salt
1/2 tsp black pepper
1/4 cup chopped parsley
1/4 cup chopped mint
For the béchamel sauce:
4 tbsp vegan butter
4 tbsp flour
2 cups unsweetened soy milk
1/4 tsp ground nutmeg
1/4 tsp black pepper
1/2 tsp salt
Instructions:
Preheat your oven to 375°F.
In a colander, sprinkle salt over the eggplant slices and let them sit for about 30 minutes.
After 30 minutes, rinse the salt off the eggplant slices and pat them dry.
In a large skillet over medium heat, add olive oil, chopped onions, minced garlic, dried oregano, and ground cinnamon. Cook until onions are soft.
Add tomato paste, chickpeas, chopped tomatoes, sugar, 1 tsp salt, and 1/2 tsp black pepper. Cook for about 15 minutes until the sauce thickens.
In the meantime, prepare the béchamel sauce. In a small saucepan over low heat, melt vegan butter, add flour, and whisk until smooth. Add soy milk slowly, whisking constantly. Keep whisking until the sauce thickens. Add nutmeg, black pepper, and salt. Remove from heat.
Add chopped parsley and mint to the chickpea sauce.
Spread some olive oil at the bottom of a 9 x 13 inch baking dish. Arrange a single layer of eggplant slices, add half of the chickpea mixture, and repeat with another layer of eggplant and chickpea mixture. Pour the béchamel sauce over the top.
Bake for 45 minutes or until the top is golden brown.
Let it rest for 10 minutes before slicing and serving.
There you have it, a delicious and vegan version of the Greek Moussaka recipe. Serve it warm, and enjoy the rich flavors of Greece. We hope you find this recipe as mouthwatering as we do. Let us know how it turned out in the comments below!