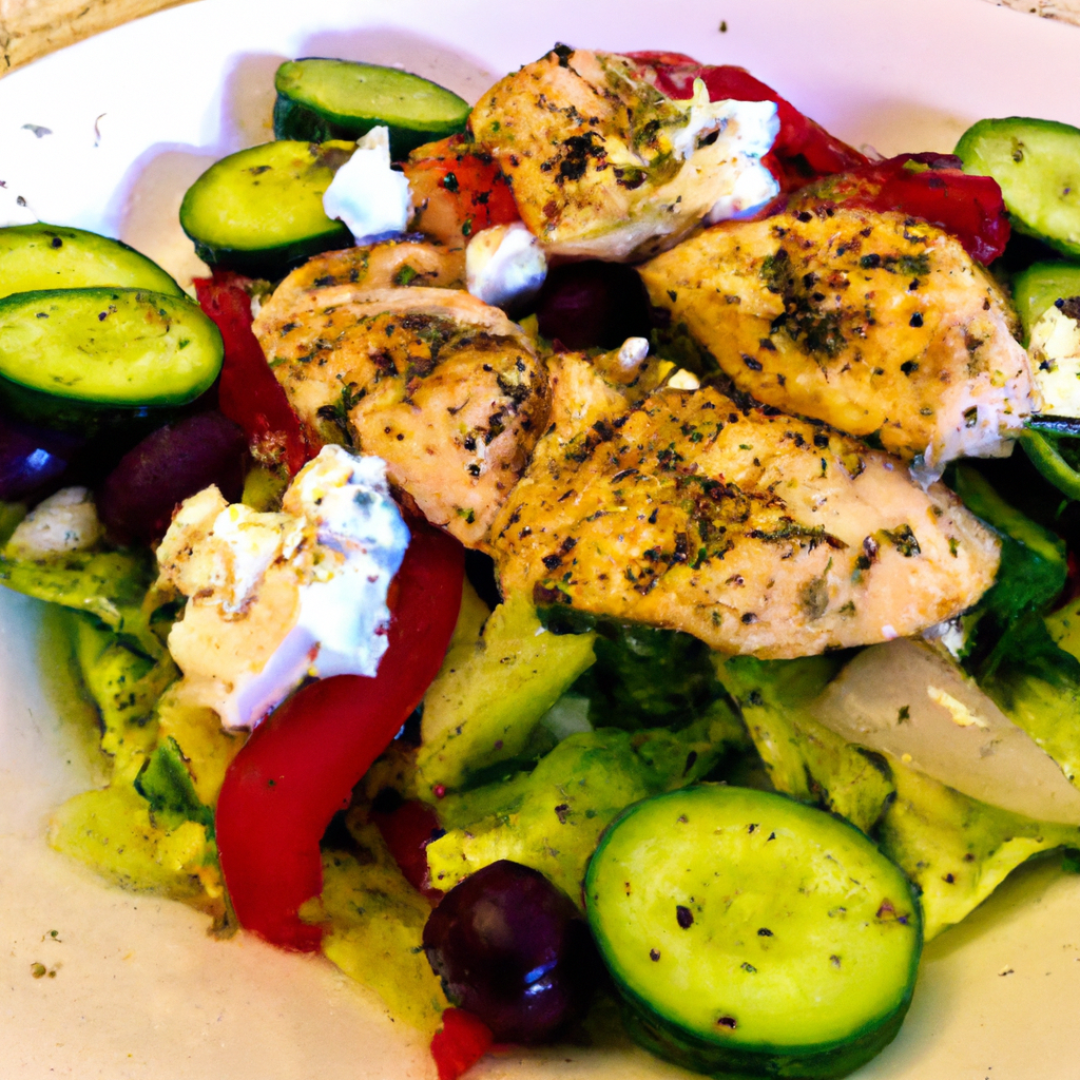 What are some alternative ingredients that can be added to a Greek Salad with Grilled Chicken recipe to mix things up and add variety?
Greek Salad with Grilled Chicken: A Delicious Lunch Recipe
Introduction
Summertime calls for lunches that are light, flavorful, and delicious. A Greek salad with grilled chicken is a perfect dish for a refreshing and satisfying meal midday. The combination of crisp greens, juicy tomatoes, salty olives, and tangy feta is a classic and irresistible pairing, but the real star of this salad is the succulent grilled chicken that is marinated with Mediterranean flavors. It provides a delicious boost of protein and texture to the dish, turning a simple salad into a fulfilling and wholesome meal. This recipe is easy to make, requires minimal effort, and can be enjoyed on its own or with a slice of crusty bread. Here's how to prepare it.
Ingredients
2 chicken breasts
2 tablespoons olive oil
1 teaspoon dried oregano
1 teaspoon dried basil
1 teaspoon garlic powder
1 tablespoon lemon juice
Salt and pepper to taste
4 cups mixed greens
1 cucumber, sliced
1 cup cherry tomatoes, halved
1/2 cup red onion, thinly sliced
1/2 cup kalamata olives
1/2 cup crumbled feta cheese
1/4 cup extra virgin olive oil
2 tablespoons red wine vinegar
1 teaspoon dried oregano
Salt and pepper to taste
Directions
Preheat a grill to medium-high heat.
In a bowl, whisk together the olive oil, dried oregano, dried basil, garlic powder, lemon juice, salt, and pepper to make the marinade.
Add the chicken breasts to the bowl and coat evenly with the marinade. Let sit for 10 to 15 minutes.
Grill the chicken breasts for 6 to 8 minutes per side, or until cooked through and charred on the outside. Let rest for 5 minutes before slicing.
In another bowl, whisk together the extra virgin olive oil, red wine vinegar, dried oregano, salt, and pepper to make the dressing.
In a large salad bowl, combine the mixed greens, cucumber, cherry tomatoes, red onion, kalamata olives, and crumbled feta cheese.
Add the sliced grilled chicken on top of the salad.
Pour the dressing over the salad and toss gently to coat all the ingredients.
Serve immediately and enjoy!