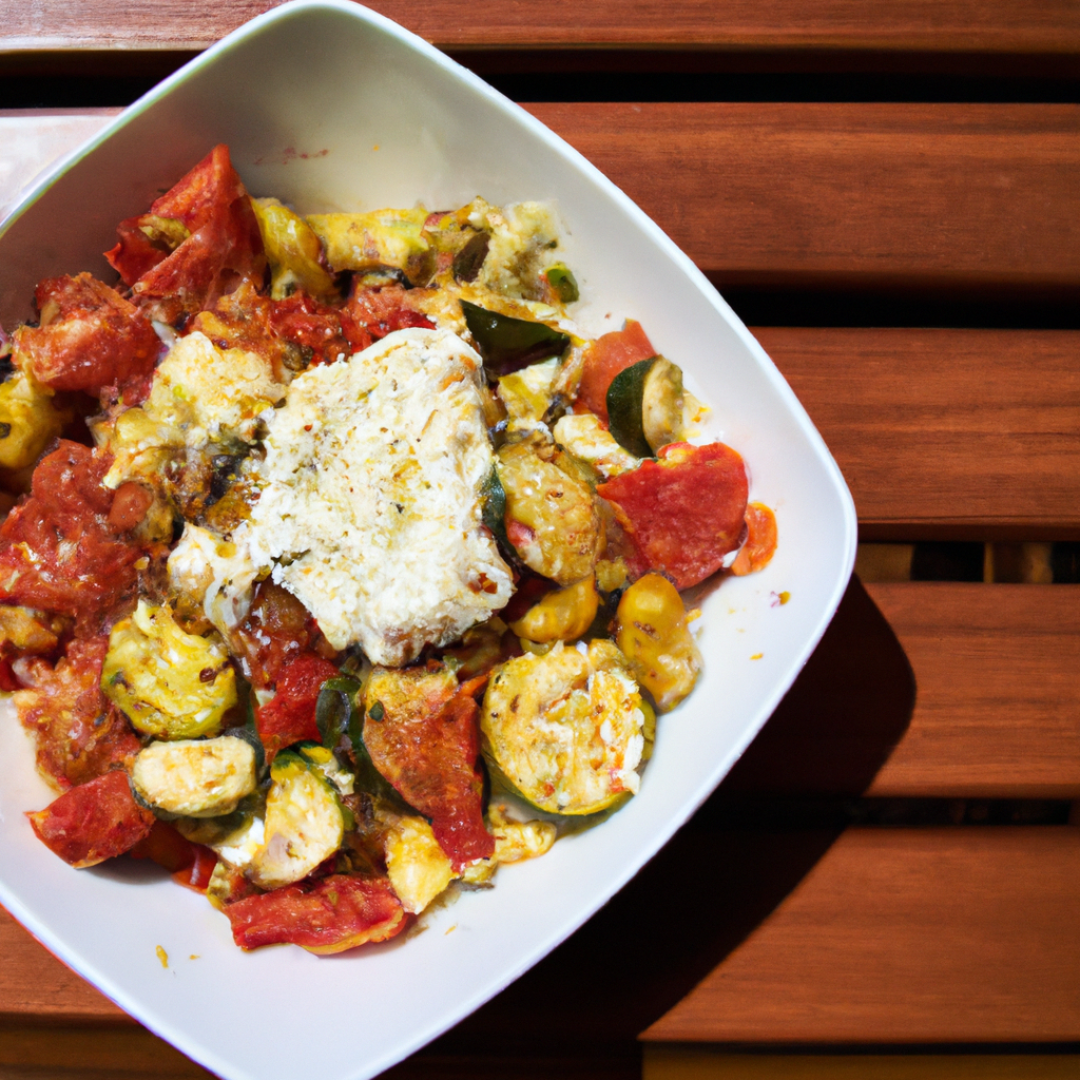 What are some key ingredients in this flavorful Mediterranean dish?
Intro:
Are you a fan of Mediterranean cuisine? Do you crave the bold and distinctive flavors that grace the tables of Greek households? If so, you are in for a treat! The dish we propose is not only delicious, but also vegan-friendly! You can savor the taste without disrupting your dietary preferences. Made with fresh vegetables and flavorful spices, this dish captures the essence of the Mediterranean in every bite. So, get ready to tantalize your taste buds with this deliciously Greek and 100% vegan dish.
Recipe: Vegan Greek Ratatouille
Ingredients:
– 1 medium eggplant
– 2 red bell peppers
– 2 zucchinis
– 1 yellow onion
– 4 cloves garlic
– 2 cans crushed tomatoes
– 1 tablespoon dried oregano
– Salt and pepper to taste
– Olive oil
– Fresh parsley (for serving)
Method:
1. Preheat the oven to 400°F (200°C).
2. Peel and slice the eggplant into 1/2 inch rounds. Arrange them on a baking sheet lined with parchment paper. Brush them lightly with olive oil and sprinkle with salt. Roast in the oven for 15-20 minutes, or until tender and lightly browned.
3. While the eggplant is roasting, dice the bell peppers, zucchinis, and onion. Mince the garlic.
4. Heat 2 tablespoons of olive oil in a large pot over medium heat. Add the onion and garlic and sauté until the onions become translucent.
5. Add the diced bell peppers and zucchinis to the pot and cook until they start to soften, about 5 minutes.
6. Add the 2 cans of crushed tomatoes, dried oregano, salt and pepper and stir well. Simmer for 15 minutes, stirring occasionally.
7. Once the eggplant is done roasting, remove from the oven and chop into bite-sized pieces. Add the eggplant to the pot and cook for an additional 5-7 minutes.
8. Serve the ratatouille hot, garnished with fresh parsley and a drizzle of olive oil.
Outro:
This vegan Greek ratatouille is the perfect dish to enjoy for a cozy family dinner or for a group of friends. It's full of flavors and textures, and is a great way to incorporate more veggies into your diet. Not only is it simple to make, but it's also nourishing to your body. So, give it a try and savor the goodness and richness of Mediterranean cuisine, in a dish that is purely vegan!