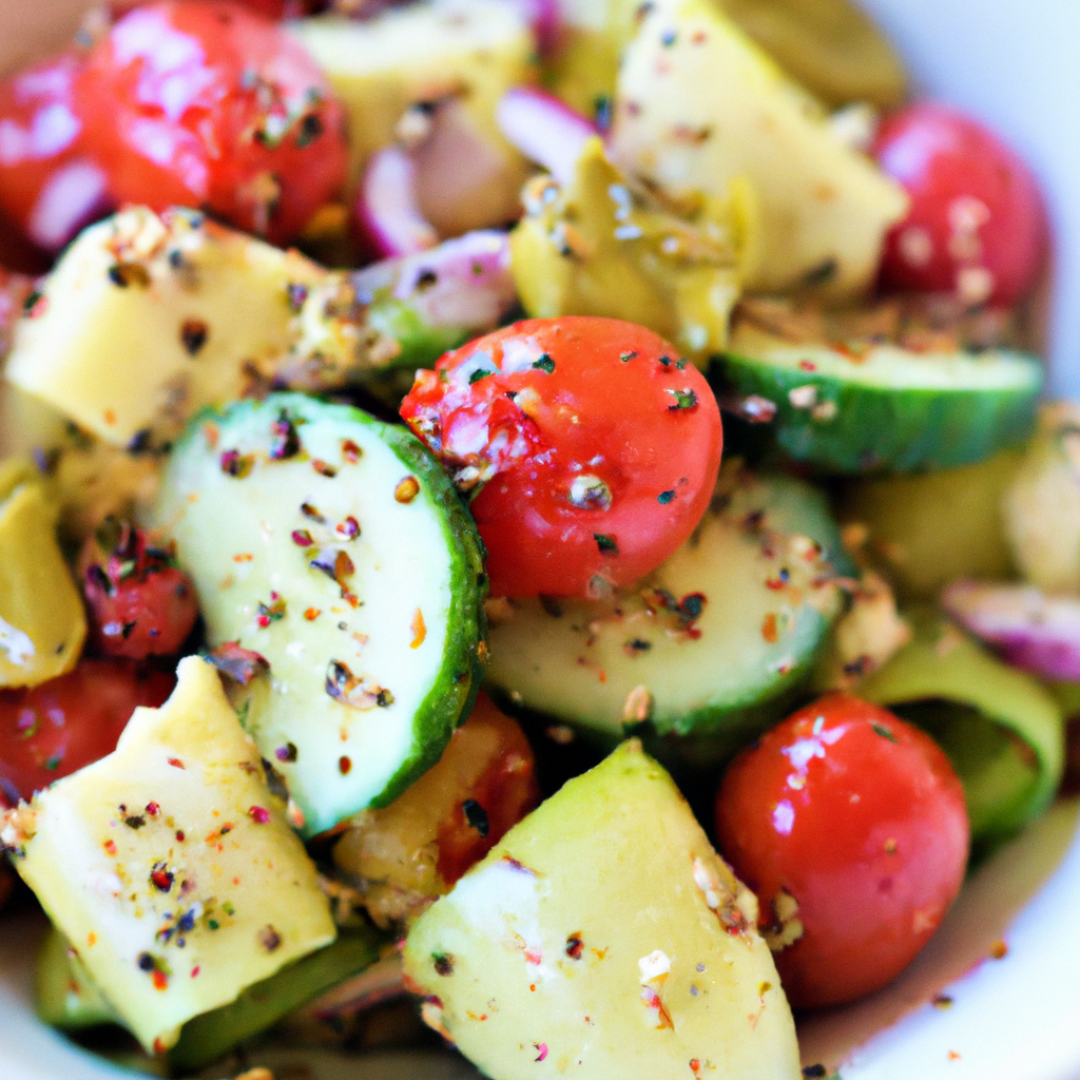 What Mediterranean ingredients are featured in this lunch recipe?
Get Your Greek on with this Delicious and Easy Mediterranean Lunch Recipe!
Looking for a healthy and delicious lunch option that takes only minutes to prepare? Look no further than this quick and easy Mediterranean salad! With a variety of fresh vegetables, salty feta cheese, and tangy olives, this recipe is a perfect fit for anyone looking to add a little bit of Greek flair to their lunchtime routine.
Ingredients
1/2 cup chopped cucumber
1/2 cup chopped cherry tomatoes
1/4 cup crumbled feta cheese
1/4 cup pitted kalamata olives
1/4 cup chopped red onion
1 Tbsp. extra virgin olive oil
1 Tbsp. red wine vinegar
1/4 tsp. dried oregano
Salt and pepper to taste
Instructions
In a large bowl, combine the chopped cucumber, cherry tomatoes, feta cheese, kalamata olives, and red onion.
Drizzle the olive oil and red wine vinegar over the top of the vegetables and toss to combine.
Sprinkle the dried oregano, salt, and pepper on top of the salad and toss again until everything is evenly coated.
Chill the salad for at least 10 minutes before serving to allow the flavors to meld together.
Why This Recipe is Great
Not only is this Mediterranean salad tasty and refreshing, it's also incredibly healthy and packed with nutrients! Cucumbers are great for hydration and are rich in antioxidants, while tomatoes are a good source of vitamin C and potassium. Feta cheese adds a satisfying saltiness to the dish, and kalamata olives provide healthy fats and a boost of flavor. And with only 5 minutes of prep time, this recipe is perfect for busy weekday lunches or even as a side dish for dinner!
Conclusion
With this easy recipe, you can have a delicious Mediterranean lunch in minutes! So why not get your Greek on and try this refreshing salad today?