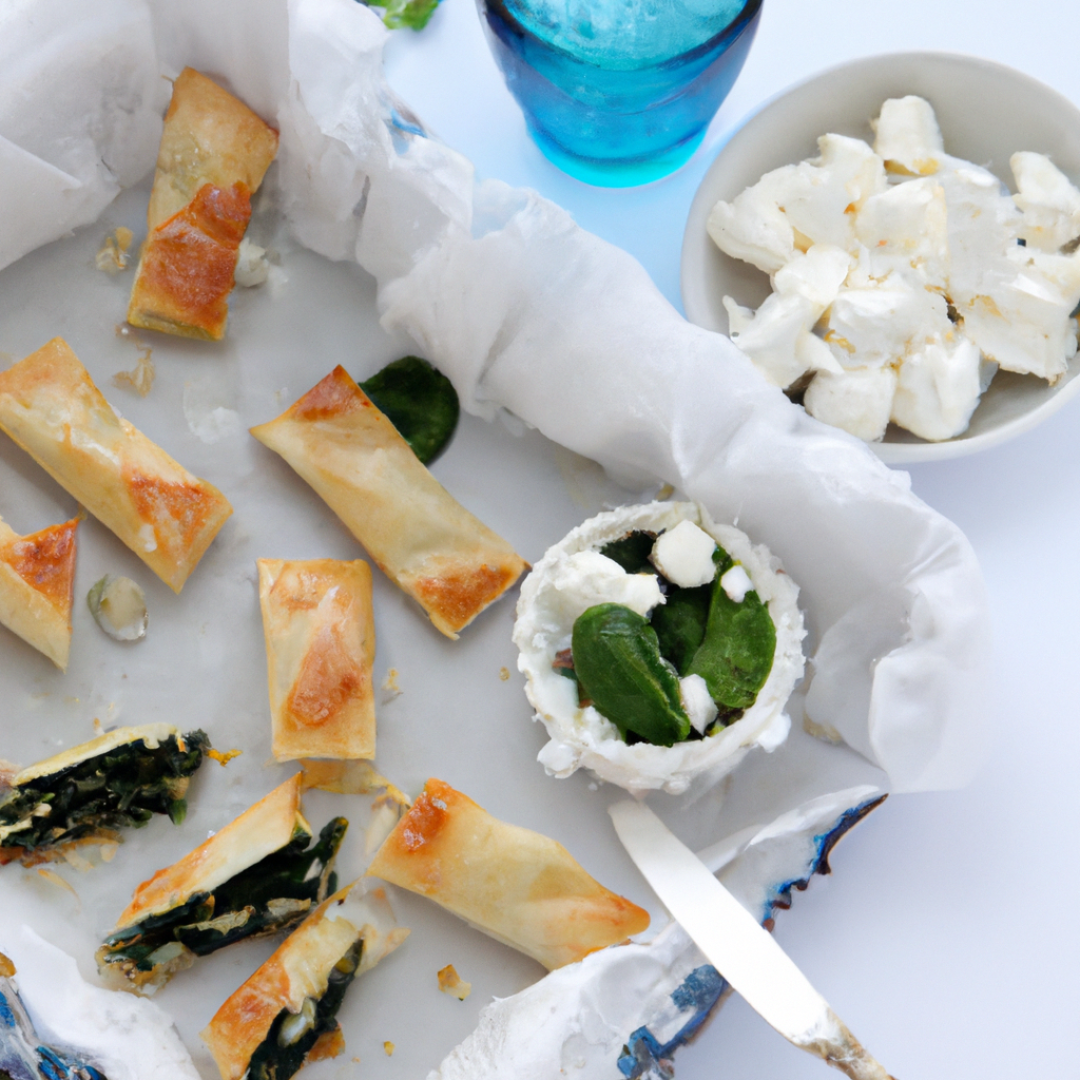 What are some tips for making the perfect flaky phyllo dough for the spanakopita recipe?
Tasty Greek Mezze Delight: Feta and Spinach Spanakopita Recipe
Introduction
If you're a fan of Greek food, chances are you've tried spanakopita. This traditional dish features a filling of spinach and feta cheese wrapped in layers of crispy phyllo pastry. It's perfect as a main course, but also makes a great appetizer or snack. Try your hand at making this delicious Greek mezze delight with our easy-to-follow recipe.
Ingredients
Phyllo Pastry

12 sheets

Fresh Spinach

500g, chopped

Feta Cheese

200g, crumbled

Onion

1 medium, chopped

Garlic

2 cloves, minced

Olive Oil

2 tablespoons

Egg

1, beaten

Nutmeg

1/4 teaspoon, grated

Salt

1/2 teaspoon

Pepper

1/4 teaspoon
Instructions
Preheat oven to 180°C / 356°F.
Wash and chop the spinach. Squeeze out any excess moisture with a kitchen towel or paper towel.
Heat the olive oil in a frying pan. Add the onion and garlic and cook until softened, about 5 minutes.
Add the spinach to the frying pan and cook until wilted, about 3-5 minutes.
Remove the frying pan from the heat and let the spinach mixture cool slightly.
In a large bowl, mix together the crumbled feta, beaten egg, grated nutmeg, salt, and pepper.
Add the spinach mixture to the bowl of feta and stir to combine.
Take one sheet of phyllo pastry and brush it with olive oil. Place another sheet on top and brush with olive oil again. Repeat until you have 6 sheets of phyllo pastry layered up.
Spoon the spinach and feta mixture onto the phyllo pastry, leaving a border of about 2 cm all around. Fold the sides of the phyllo pastry in over the filling, then roll it up like a cigar.
Place the rolled-up spanakopita on a baking sheet lined with parchment paper.
Repeat the phyllo