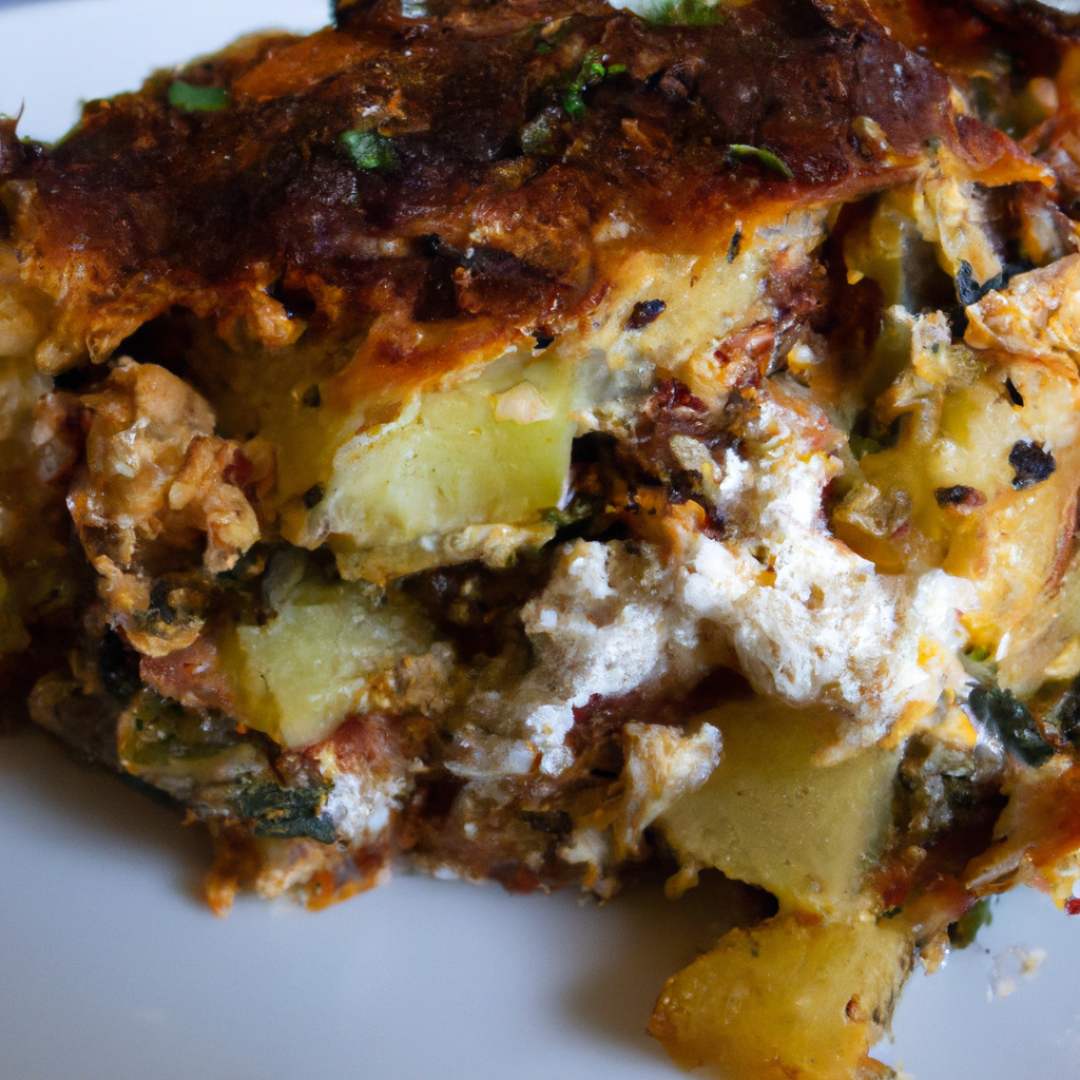 What ingredients are needed to make this vegan moussaka recipe?
Deliciously Greek: Try this Flavorful Vegan Moussaka Recipe Today!
Moussaka is a classic Greek dish that is usually made with meat and cream sauce. This vegan version is just as delicious and flavorful, but without the animal products. You won't even miss the meat!
Prep Time: 30 minutes
Cook Time: 1 hour
Total Time: 1 hour 30 minutes
Servings: 6
Ingredients:
2 medium eggplants, sliced into rounds
1 tablespoon olive oil
1 onion, chopped
2 garlic cloves, minced
1 red bell pepper, chopped
1 zucchini, chopped
1 can (14 oz) crushed tomatoes
1/2 cup vegetable broth
1/4 teaspoon cinnamon
1/4 teaspoon nutmeg
1/4 teaspoon allspice
Salt and pepper, to taste
1 tablespoon flour
1 cup unsweetened almond milk or any other plant milk
1/4 cup nutritional yeast
1/4 teaspoon garlic powder
1/4 teaspoon onion powder
1/4 teaspoon turmeric
1/4 teaspoon paprika
1/4 teaspoon salt
2 tablespoons vegan butter
Instructions:
1. Preheat the oven to 375°F.
2. Arrange eggplant slices on a baking sheet and brush with olive oil. Bake for 20 minutes, or until tender. Set aside.
3. Heat a large skillet over medium heat. Add the onion and garlic and cook until softened, about 5 minutes.
4. Add the red bell pepper and zucchini and cook for another 5 minutes.
5. Add the crushed tomatoes, vegetable broth, cinnamon, nutmeg, allspice, salt, and pepper. Cook for 10 minutes. Add the flour and cook for another 2 minutes.
6. In a separate pot, melt the vegan butter. Add the flour and whisk until smooth. Slowly pour in the almond milk, whisking constantly to avoid any lumps.
7. Stir in the nutritional yeast, garlic powder, onion powder, turmeric, paprika, and salt. Keep stirring until the sauce thickens, about 5 minutes.
8. In a 9×13-inch baking dish, layer the eggplant slices and tomato sauce, starting and ending with eggplant. Pour the sauce over the top.
9. Bake for 30-35 minutes, or until the top is lightly browned.
This vegan moussaka is a delicious and flavorful way to enjoy Greek food without any animal products. It's perfect for a family dinner or a special occasion. Enjoy!